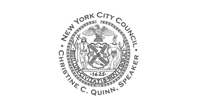 Dear New Yorker,
Because it's so vitally important, starting this fall, kindergarten is mandatory for all five-year-olds in New York City.
Although all five-year-olds will be guaranteed a spot in a NYC kindergarten classroom in September 2013, parents must still submit an APPLICATIONin order for their child to attend kindergarten at a NYC public school, so we wanted to help get the word out that applications are due TOMORROW (Friday, March 1st).
To apply for kindergarten:
First, find out what district you live in and where your zoned school is located by calling 311 or visiting the School Search website. This will be based on your home address.
Find out about your child's eligibility for other kindergarten programs, such as dual language programs or schools that you are not zoned for. This information is available in your district's Elementary School Directory, available online. Information about new elementary schools opening across the city in 2013 is also available online. For more information about kindergarten admissions for students who require special education services, please visit the NYC Department of Education's (DOE) Special Education website.
Once you've decided which schools or programs you want to apply to, fill out an application and bring it to the school by March 1, 2013. Remember, if you would like to apply to multiple schools, you must submit an application to each school.
Make sure to bring your child's birth certificate or passport, proof of immunization, AND two documents which provide proof of residence. A list of acceptable documents for this purpose can be found on the DOE's website. Please note that your child is eligible to register for kindergarten even if he or she is not a citizen.
Important dates in the kindergarten admissions process for the 2013-2014 school year can be found on the DOE's Calendar and Events page:
March 1, 2013: Kindergarten admissions period ends.
Early April 2013: Placement offers will be distributed to families.
April 8- April 26, 2013: Pre-registration period.
All applications received by the March 1st deadline will be treated the same – kindergarten seats in schools are not assigned on a first-come, first-served basis.
District 1, 7, and 23 Admissions
Districts 1, 7, and 23 are choice districts. There are no zoned schools in these districts, and families do not submit applications directly to schools. If a family resides in one of these districts, the admissions process is centralized. Elementary School Directories, which include information about the admissions process, school options, and application instructions, are available for District 1, District 7, and District 23 online.
Families can get more information about kindergarten admissions by visiting the DOE's website, emailing the Elementary School Enrollment Team at ES_Enrollment@schools.nyc.gov, or calling (718) 935-2009.
Thank you!
Sincerely,
Christine C. Quinn
Speaker
NYC Council
Robert Jackson
Chair, Education Committee
NYC Council