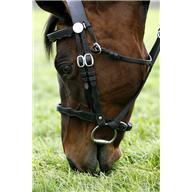 Meghan Fenty filed suit against Seven Meadows Farms after she suffered a horseback riding injury. And when an Orange County Supreme Court judge later dismissed her case, she appealed.
Because Fenty was an experienced rider, who had voluntarily engaged in the activity and who was fully familiar with the associated risks, the Appellate Division, Second Department, let that dismissal stand. (While Fenty claimed a "disability," absent proof that the defendants were aware of that condition, the appellate court wasn't interested in beating a dead horse.)
Of course, of course.
To view a copy of the Appellate Division's decision, please use this link: Fenty v. Seven Meadows Farms, Inc.