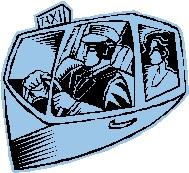 After it was reported that he had pulled a gun on a livery cab driver, Terry Grimes was arrested, a gun and some ammunition were recovered, and charges were filed.
When the criminal case was later dropped, Grimes filed a civil rights suit alleging --among other things-- false arrest, false imprisonment, and malicious prosecution.
But both the Bronx County Supreme Court and the Appellate Division, First Department, were of the view that the witnesses' statements provided officers with enough of a legal basis--or "probable cause"--to arrest the guy and that, in the absence of any departure from "official custom or policy," the lawsuit couldn't stand.
Where did that hail from?
To view a copy of the Appellate Division's decision, please use this link: Grimes v. City of New York