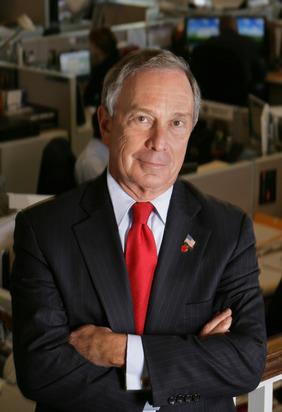 MAYOR BLOOMBERG ANNOUNCES AGREEMENT IN CITY'S FIRST-EVER LAWSUIT AGAINST SELF-STORAGE FACILITIES USED TO ILLEGALLY STORE AND SELL COUNTERFEIT GOODS

Self-Storage Operator to Establish Unprecedented Code of Best Practices in All Current and Future New York City Facilities

An Estimated 44,000 Counterfeit DVDs & CDs Worth More Than $550,000 in Retail Value Seized at Safeguard Facility Last Summer
Mayor Michael R. Bloomberg, Chief Policy Advisor John Feinblatt and Director of the Mayor's Office of Special Enforcement Kathleen McGee announced last week an agreement in the first-ever lawsuit by the City against a public self-storage facility for the illegal storage, distribution and sale by customers of counterfeit trademarked goods and pirated video and audio recordings. Last summer, following nearly a month-long investigation, the Mayor's Office of Special Enforcement and the NYPD's 75th Precinct seized approximately 44,000 counterfeit and unlicensed movie DVDs and music CDs with an estimated retail value of more than $550,000 from a multi-story public self-storage facility owned by Safeguard Properties LLC and operated by Safeguard Operations LLC. The City, in its associated lawsuit, filed a nuisance abatement civil enforcement action to prevent the recurrence of criminal counterfeiting activities at the illegally-used storage units. In a first-of-its-kind agreement with the City and with an interest in preventing any illegitimate activity in its facilities, Safeguard has agreed to support the City's efforts against counterfeiting and will modify its current rental rules to make them more stringent. In addition to existing rules and procedures designed to discourage illicit activity by renters, Safeguard will follow a code of best practices including a requirement to report all suspected criminal activity to law enforcement. Further, the City has also ensured that the individual co-defendant accused of operating the counterfeiting-related business will be permanently prevented from renting – or otherwise using – a storage unit in any Safeguard facility within New York City.
"New York City is the home to many artists and other creative people who earn their living designing quality products," said Mayor Bloomberg. "By going after the facilities where the counterfeit goods are stored, we prevent the distribution of thousands of illegal goods before they hit city streets and before designers, consumers and tax payers become victims."
"Counterfeit goods not only rob legitimate businesses of customers, but the illegal activity often has a nexus to organized crime," said Chief Policy Advisor Feinblatt. "The message to the self-storage industry is clear – you can't look the other way when criminals turn your storage facility into warehouse for illegal activity."
"We welcome Safeguard as a partner in reducing the proliferation of illegal goods and look forward to working with other storage operators in our continued efforts against counterfeiting," said Kathleen McGee, Director of the Mayor's Office of Special Enforcement.
"Safeguard is pleased to have reached this agreement with the City of New York," said Allan Sweet, CEO of Safeguard Self Storage. "Although Safeguard already had procedures in place which aimed to prevent illegal activity at our facilities, we agree that the new and comprehensive procedures in the 'Code of Best Practices' should become the standard for our industry. We are pleased to be a partner with the City in creating this new standard."
"It is the duty of all responsible members of the business community to work together to make New York a safer place for consumers, and a safer place for legitimate businesses to operate," said Bob Barchiesi, President of the International AntiCounterfeiting Coalition. "We applaud the Mayor's Office of Special Enforcement for its adoption of creative strategies to address this serious problem, and commend its efforts to work in partnership with local businesses. We're hopeful that other businesses in and around New York will adopt the Code of Best Practices to further build upon these efforts."
As part of its ongoing efforts to combat counterfeiting, the City has expanded its scope to target public self-storage facilities that provide safe harbor for counterfeit trademarked and unlicensed goods before they reach the hands of illegal retailers. Last summer, the Office of Special Enforcement, along with members of the 75th Precinct and NYPD Emergency Services, uncovered and, pursuant to a search warrant, seized an estimated 44,000 counterfeit and unauthorized DVDs and CDs with an estimated retail value of more than $550,000. The seizure included pre-release movies such as "The Hunger Games" and "The Avengers," and music from artists such as Lady Gaga and Rihanna.
Through an agreement with the City, Safeguard will strengthen the standard regulations required of its customers. In addition, Safeguard will comply with a new "Code of Best Practices" drafted with the City that will guide operation of all of Safeguard's fourteen existing public self-storage facilities in New York City and any additional locations that subsequently open in the five boroughs. As a result of the City's settlement with Safeguard:
Safeguard must report all illegal/criminal activities observed within its facilities to a governmental law enforcement agency, keep written record of all such reports, and timely provide information in such reports to City upon request.
Safeguard will expressly prohibit storage of counterfeit merchandise and machines capable of producing counterfeit merchandise, and sales of any kind out of units.
Customers must expressly grant Safeguard access to their units for inspection, without prior notice, when Safeguard reasonably believes a nuisance is occurring in that unit.
Safeguard will be required to conduct walk-through patrols of all their facilities at least once per day, keeping a record of each patrol and any observations of unusual activities or conditions.
Safeguard will photocopy the picture ID cards and store all of an applicant's information for no less than one year after termination of their rental agreement.
Safeguard must have sufficient video cameras installed to monitor each facility's activities.
Safeguard must regularly review their internal records on a daily basis to see if unusually heavy activity occurred at any particular unit and if so, it must further investigate that unit.
The Office of Special Enforcement was created in December 2006 through a mayoral executive order to expand the activities of the Office of Midtown Enforcement to all five boroughs. The Office is responsible for coordinating citywide enforcement efforts across City agencies to address quality of life issues, including those related to lawless clubs, trademark counterfeiting bazaars and the conversions of residential apartments into illegal hotels.
Since its creation, in addition to the closure of more than 60 illegal counterfeiting locations and storefronts, the Office of Special Enforcement has seized an estimated $52 million in knock-off goods and forced counterfeiters to pay more than $3.2 million in fines for lost revenue to the taxpayers of New York City.