BP MARKOWITZ WELCOMES HARLEM GLOBETROTTERS TO BROOKLYN AFTER TEAM DRIBBLES ACROSS THE BROOKLYN BRIDGE
Borough President Marty Markowitz announces October 7 as "Harlem Globetrotters Day" celebrating the team's historic game at Barclays Center, their first game in Brooklyn in their 87-year history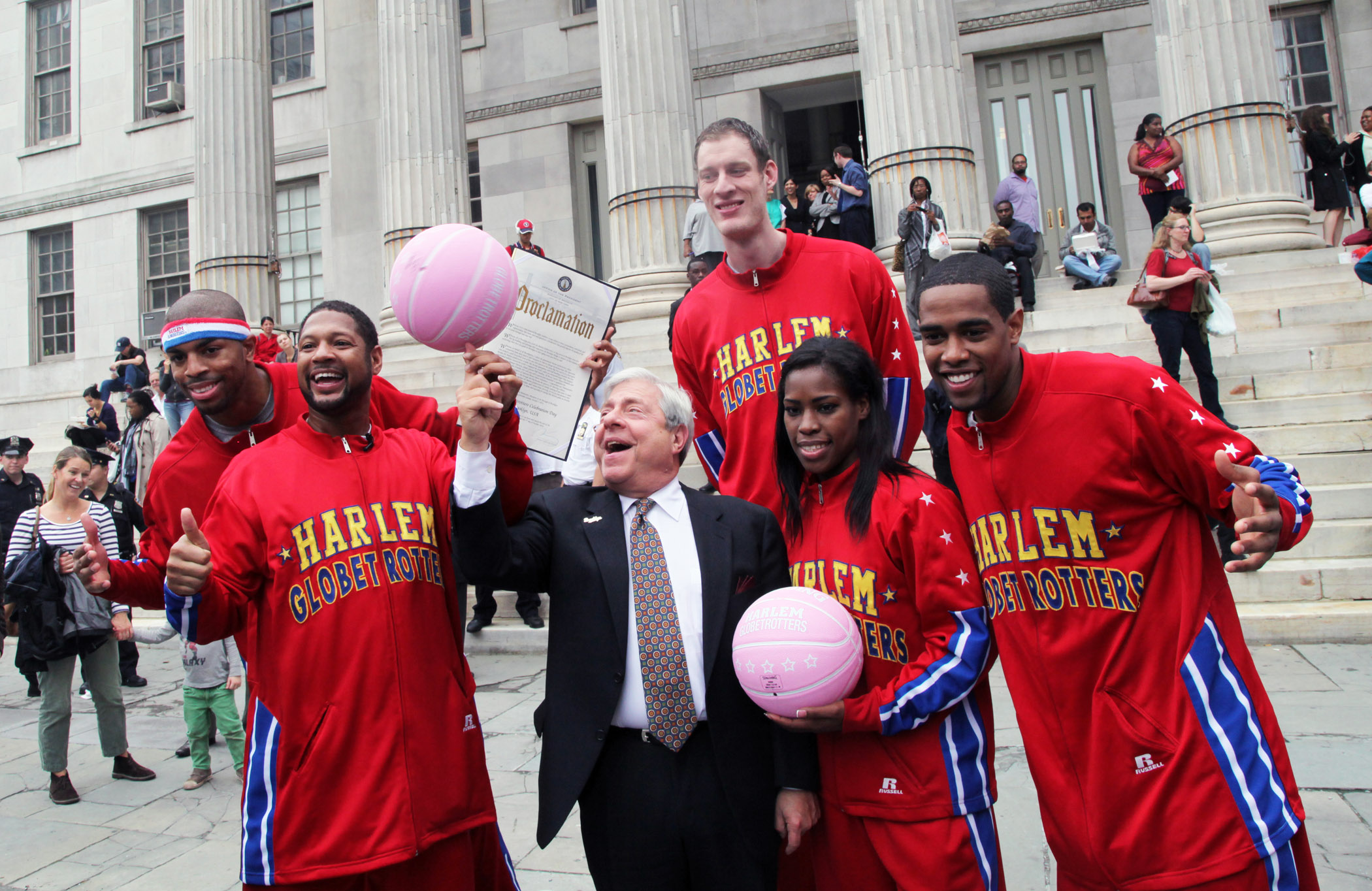 Five stars of the world famous Harlem Globetrotters - 7-foot-8 Tiny Sturgess, Brooklyn native Hammer Harrison, female star TNT Maddox, Bronx native Cheese Chisholm, and fan favorite Handles Franklin - dribbled and spun basketballs across the Brooklyn Bridge yesterday to celebrate the Globetrotters' first-ever game in New York City's largest borough in their 87-year history. The game will be held at 5:00 p.m. on Oct. 7 at Brooklyn's brand new Barclays Center.
The 1.8-mile trek over the bridge ended at Brooklyn Borough Hall, where Borough President Marty Markowitz welcomed the team and proclaimed Oct. 7 as "Harlem Globetrotters Day." The Ambassadors of Goodwill™ used specially-designed pink Spalding basketballs on the bridge to signify their campaign to promote breast cancer awareness throughout the team's 2013 "You Write the Rules" World Tour.
"After 87 years of entertaining millions across the country and around the world, the Harlem Globetrotters are finally going to play a game in Brooklyn at our spectacular new Barclays Center," said Brooklyn Borough President Marty Markowitz."And now that I have met the players up close and in person, I can say for sure that this is a team that I really look up to. After watching the Globetrotters dish, drive, and dribble across the Brooklyn Bridge, it's clear that their skills are more than just a 'tall tale' and that they stand 'head and shoulders' above the rest. In honor of their historic arrival in the new basketball capital of New York City, I am thrilled to proclaim Oct. 7, 2012, 'Harlem Globetrotters Celebration Day' in Brooklyn, U.S.A."
The first-ever game for the Globetrotters in Brooklyn, locally presented by Modell's Sporting Goods, will be one of the first events at the new Barclays Center, tipping off at 5:00 p.m. on Sunday, Oct. 7. Tickets can be purchased at www.harlemglobetrotters.com or www.barclayscenter.com , or by calling 800-745-3000.
Sponsored by Howard Johnson Hotels, Greyhound Lines, Spalding, and Russell Athletic, the Original Harlem Globetrotters will celebrate their 87th consecutive year in 2013, continuing a world famous tradition of ball handling wizardry, basketball artistry and one-of-a-kind family entertainment that continues to thrill fans of all ages. Throughout their history, the Globetrotters have showcased their iconic talents in 120 countries and territories on six continents, often breaking down cultural and societal barriers while providing fans with their first-ever basketball experience. Proud inductees of the Naismith Memorial Basketball Hall of Fame, the Globetrotters have entertained hundreds of millions of fans--among them popes, kings, queens, and presidents--over more than eight thrilling decades. For the latest news and information about the Harlem Globetrotters, and to purchase tickets and team merchandise, visit the Globetrotters' official Web site: www.harlemglobetrotters.com .
* * *

Photo Credit: Kathryn Kirk
In photo (left to right): Hammer Harrison, Handles Franklin, BP Markowitz, Tiny Sturgess, TNT Maddox, Cheese Chisholm