THE COUNCIL OF URBAN PROFESSIONALS

along with

CUP's GALA HONORARY CHAIRS & COMMITTEE


Graciously Invite You to Attend Our

An Evening of Recognition & Celebration

THURSDAY, APRIL 5, 2012

ESPACE

635 West 42nd Street (Between 11th & 12th Avenues)
ABOUT OUR HONOREES:
MISTY COPELAND
Soloist, American Ballet Theatre
BREAKTHROUGH LEADERSHIP AWARD
Misty Copeland was raised in San Pedro, California, where she took her first ballet class at the age of 13. Typically ballerinas begin at a younger age than 13 but the late starting age did not impede Misty's rise to the upper echelon of the ballet performers. Only two years after starting her ballet training, Misty won first place in the prestigious Los Angeles Spotlight Awards. This same year she was named by the Los Angeles Times as the Best Young Dancer in the Greater Los Angeles Area. In 2000 Misty was offered a full scholarship to attend American Ballet Theater's Summer Intensive Program. At the conclusion of the summer program, Misty was selected out of 150 dancers, as one of six girls who were invited to join the American Ballet Theatre's Studio Company. In 2007, Misty Copeland made history by becoming the third African American female soloist and first in two decades, at the American Ballet Theatre.
AMELIA & BAYO OGUNLESI
NEW YORK CITY VISION LEADERSHIP AWARD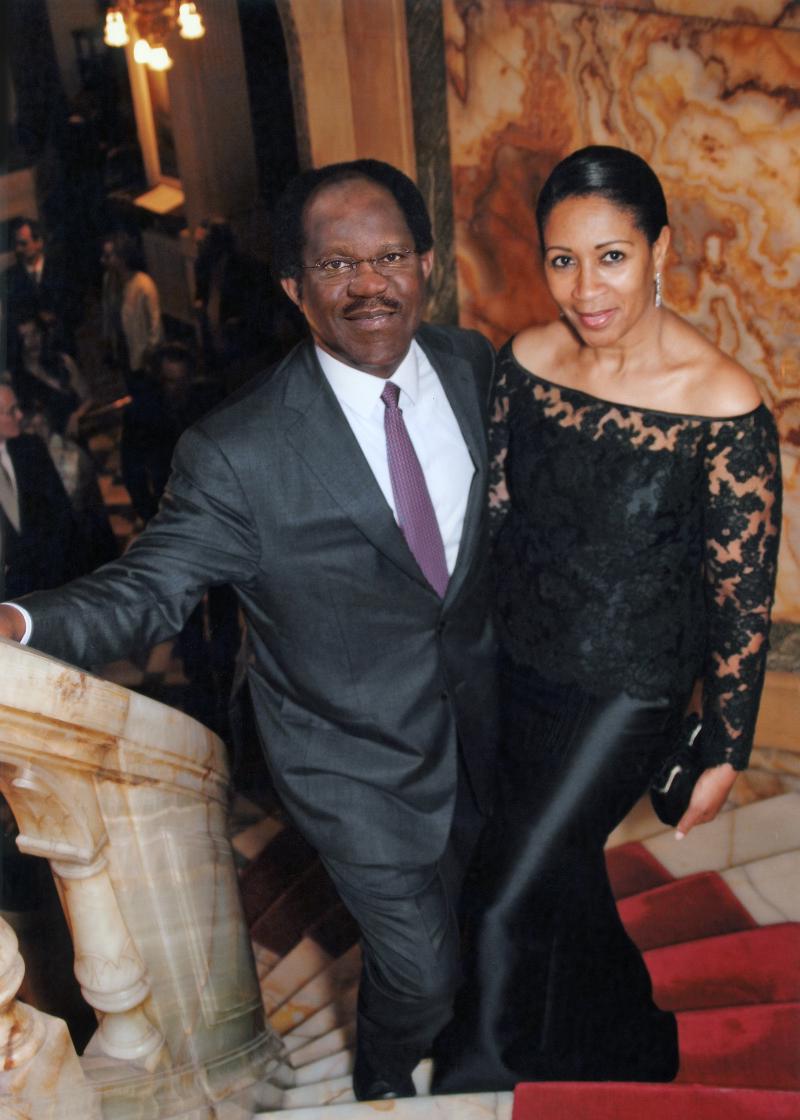 Dr. Amelia Ogunlesi and Adebayo O. Ogunlesi have been married for 27 years.


Bayo is Chairman and Managing Partner of Global Infrastructure Partners ("GIP"), a private equity firm that invests in infrastructure assets in the energy, transport and water sectors, in both OECD and select emerging markets countries. Prior to founding GIP, he held senior positions at Credit Suisse, including Executive Vice Chairman and Chief Client Officer and Global Head of Investment Banking. He is a Director of Callaway Golf Company and non-executive Chairman of the Africa Finance Corporation.
Amelia graduated with a degree in Optometry from London's City University and was licensed to practice as an Optometrist in England. She worked in private practices before eventually opening her own practice in London which she continued to manage after she moved to US, dividing her time between New York and London. Amelia currently serves on the Boards of Trustees of the Studio Museum in Harlem, Lighthouse International, the New York City Parents in Action, and the Southampton Bath and Tennis Club's Charitable Fund.
Amelia and Bayo serve as Co-Chairs of the Parents' Fund of Amherst College.
TIME WARNER
Accepted By John Martin
Chief Financial and Administrative Officer
CORPORATE DIVERSITY & INCLUSION LEADERSHIP AWARD

As a leading media and entertainment company, Time Warner helps tell the world's stories to a global audience. Cultivating diversity - of content, products, and people - is Time Warner's business imperative. As audiences become more diverse, both in ethnicity and nationality, Time Warner strives to become more diverse as a company, both in its content and its workforce. It also works to foster and promote an internal culture that values diversity of talent and ideas, as well as to identify and aggressively pursue growth opportunities in multicultural and international markets.
____________________________________________________

GALA HONORARY CHAIRS
EARVIN "MAGIC" JOHNSON
RUSSELL SIMMONS
____________________________________________________
Announcing Our New
MASTER OF CEREMONIES


MAURICE DUBOIS

Award-Winning Journalist and Anchor, CBS 2 News

____________________________________________________


CUP is Grateful for the Support of Our
5th Anniversary Leadership Gala Sponsors:

DIAMOND

PLATINUM

GOLD


BET Networks

Deutsche Bank
Kim & Tarrus L. Richardson
Kirkland & Ellis LLP
New York Life Insurance Company
Time Warner, Inc.
SILVER

Bank of America
Cleary Gottlieb Steen & Hamilton LLP
Interactive One
Latham & Watkins LLP
Paradigm Asset Management
Paul, Weiss, Rifkind, Wharton & Garrison LLP
UBS
BRONZE

Baker & Hostetler LLP
BOS Development
Cahill Gordon & Reindel LLP
Ogilvy & Mather
Palladium Equity Partners