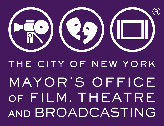 Habibah Ali-Love, Office of Film, Theatre and Broadcasting


With a smile on her face and a friendly greeting for everyone she meets, customer service is second nature to Habibah Ali-Love. That's why she was so surprised when she found out she was this year's recipient of the Mayor's Excellence in Customer Service Award. "Customer service is an everyday kind of thing for me, not just a 9-5 thing," she said.

"It's an honor," she said when she learned she was receiving the award. Customer service is a key part to her role as the insurance associate at the Office of Film, Theatre and Broadcasting, greeting customers both in office and over the phone and reviewing the insurance certificates submitted to the agency.

"Word of mouth is a powerful advertisement," said Ali-Love. "I want people to know we are a friendly City agency. We can answer your questions, and if we don't have the answers, we can guide you in the right direction."

As the office transitions to the online permit system, much of Ali-Love's interaction with customers is done solely over the phone. Her focus now is to adjust to using her voice to help customers and residents on the phone and instructing the interns she oversees to do the same. "We treat everyone with the same level of respect. We cater not just to professionals, but to students and residents as well."

Ali-Love's road to OFTB started one day during college while she was earning a degree in filmmaking and art history from Pratt Institute. One of her classes featured a guest presentation about the Office of Film, Theatre and Broadcasting. "It was the first time I learned about how to go about filming in the City," she remembered. "Then they talked about the internship program, and it hit me: that's where I belong."

After interning with the office for a year, she was brought on as an insurance associate. She's now been with the office for almost three years. "It's so rewarding. It's been my first professional experience and has given me the opportunity to be around so many remarkable people."

She grew up in Bed-Stuy among a community of artists that included her own family; her mother is a dancer, and her father and brother are musicians. A dancer her entire life, Ali-Love has even taken her love of Afro-Cuban music across the globe and has danced with the National Ballet in Africa.

She's also a filmmaker. "There's a whole world of film here. New York is huge."