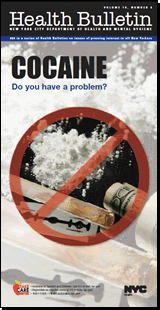 Cocaine: Do you have a problem?
In this issue:
What is cocaine?
Cocaine can lead to serious health problems or death
Heavy cocaine use can lead to:

Emotional problems
Physical problems
Social problems
Legal problems
Health Bulletin #89 is one in a series on issues of pressing interest to all New Yorkers. All Health Bulletins are available in English, Spanish, and Chinese, and many are available in other languages. For copies, call 311 or visit nyc.gov/health .