BP MARKOWITZ HOSTS CHAMPAGNE TOAST, SERVES WEDDING CAKE TO CELEBRATE MARRIAGE EQUALITY IN NEW YORK
Announces LGBT wedding expo and free champagne and photos for couples when law takes effect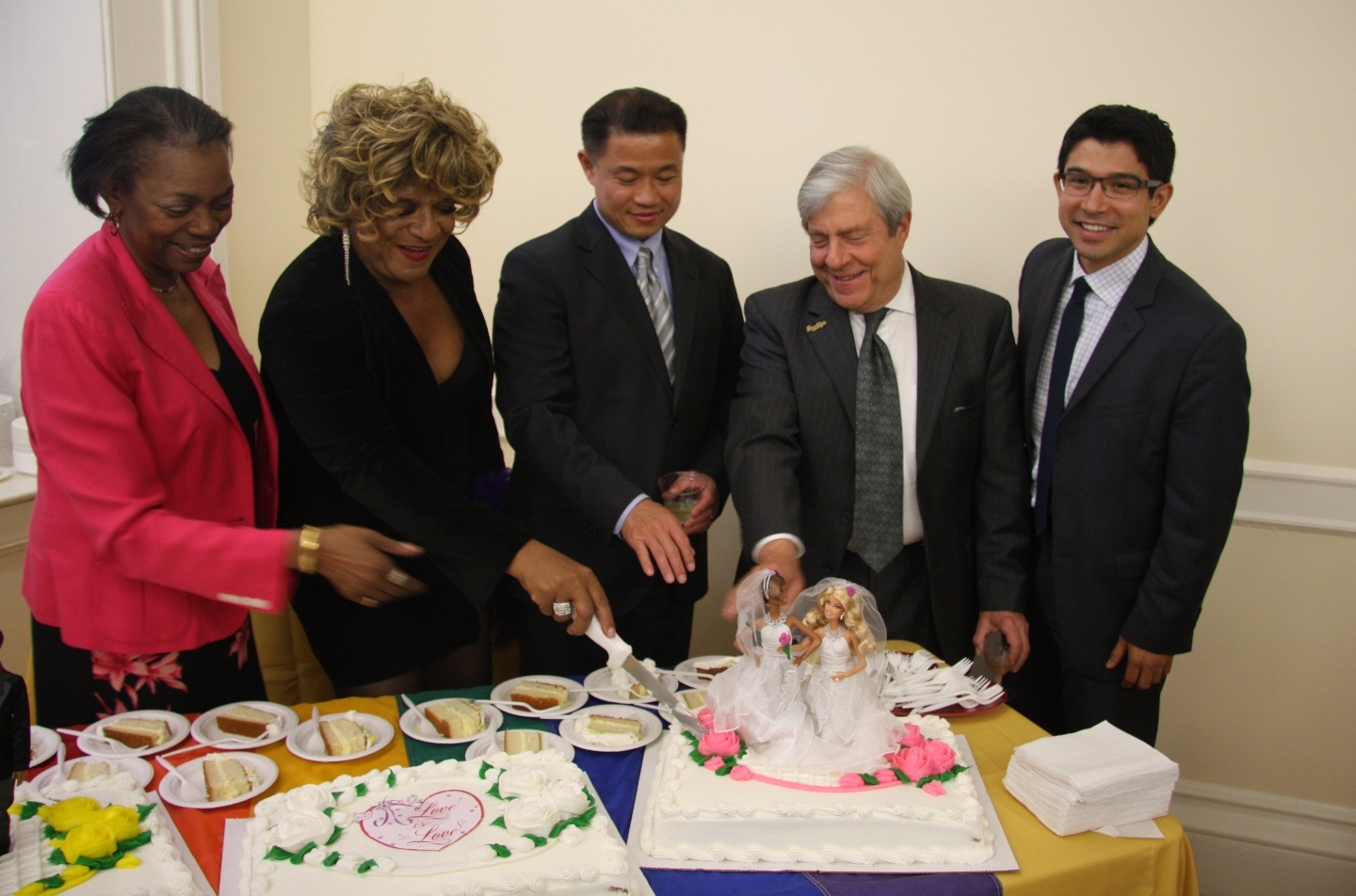 On Wednesday, June 29, Brooklyn Borough President Marty Markowitz joined City Comptroller John Liu, Senator Velmanette Montgomery, other elected officials, the lesbian, gay, bisexual and transgender (LGBT) community and celebrants of marriage equality in New York at a Brooklyn Borough Hall champagne toast and celebration featuring wedding cake, refreshments and music.
BP Markowitz also announced:
When couples can begin getting married either on Sunday, July 24 or Monday, July 25 (depending on whether the 24-hour waiting period is waived), Brooklyn Borough Hall will be open the entire day and free champagne and photographs offered to couples who want to celebrate their marriage license.

Borough Hall will host a wedding expo on Monday the 25th, featuring vendors and services of interest to all Brooklyn couples.


Details to be announced at a later date regarding wedding ceremonies being held at Borough Hall on the day marriage equality takes effect.
Brooklyn couples are reminded they can go to the City Clerk's office at the Municipal Building at 210 Joralemon Street in Downtown Brooklyn to receive a marriage license once the law takes effect. Visit www.cityclerk.nyc.gov for a complete list of procedures and the latest updates on marriage equality.
Photo by Mark Zustovich
In photo (left to right): Senator Velmanette Montgomery; Ron B. ("Tina Turner"); Comptroller John Liu; BP Markowitz; Carlos Menchaca, LGBT liaison, City Council Speaker Christine Quinn.