BP MARKOWITZ OPENS HISTORIC BOROUGH HALL TO DOZENS OF COUPLES GETTING HITCHED ON FIRST DAY OF MARRIAGE EQUALITY
Judges, rabbis and ministers preside over ceremonies; free champagne, sparkling water, wedding cake and photographs for newlyweds
On Sunday, July 24, Brooklyn Borough President Marty Markowitz opened historic Borough Hall to host more than 60 couples--more than half of them having their ceremonies performed here--and celebrate the first day of marriage equality in New York. The newlyweds were treated to free champagne, sparkling water, cake and photographs to celebrate their nuptials. Borough Hall will be open again on Monday, July 25, to accommodate ceremonies.
The first couples to be married at Borough Hall were eight-year partners Stacey Minondo and Barbara Tremblay of Downtown Brooklyn, followed by Clifton Murdock and Paris Fields of Park Slope, together for 24 years. For Barbara Pilgrim and Geraldine Whitsett of Park Slope, today meant the culmination of 48 years together--and after getting married at the Brooklyn City Clerk's office, they stopped by Borough Hall to celebrate.
"Besides being elected borough president, marrying my wife Jamie nearly 12 years ago was the best moment of my life," said BP Markowitz. "I wish these couples as much happiness as my wife and I have been blessed to share. This is a historic day in New York, and seeing these newlyweds--their smiles, that twinkle in their eye--that says it all."
The exterior of Borough Hall has long been a popular choice for wedding photographs of couples who are married at the Municipal Building across the street. During this rare Sunday opening of the 163-year-old Greek revival Borough Hall--Brooklyn's oldest public building--couples were able to be officially married by a judge, rabbi or minister and enjoy the grand Rotunda, historic Courtroom and the newly renovated Community Room as a backdrop for their special day.
In order to have their ceremony performed by an officiant at Borough Hall on Monday, couples must first receive their marriage licenses from the City Clerk at the Municipal Building across the street at 210 Joralemon Street and, if having their ceremony on the same day as they receive their license, have the state-mandated 24-hour waiting period waived by a judge. All couples are welcome.
Although not required, couples planning to come to Borough Hall on Monday the 25th can call 718-802-4042 to confirm their attendance.
For more information on marriage equality in New York City, visit www.nyc.gov or www.cityclerk.nyc.gov .
Photos by Tatiana Valerie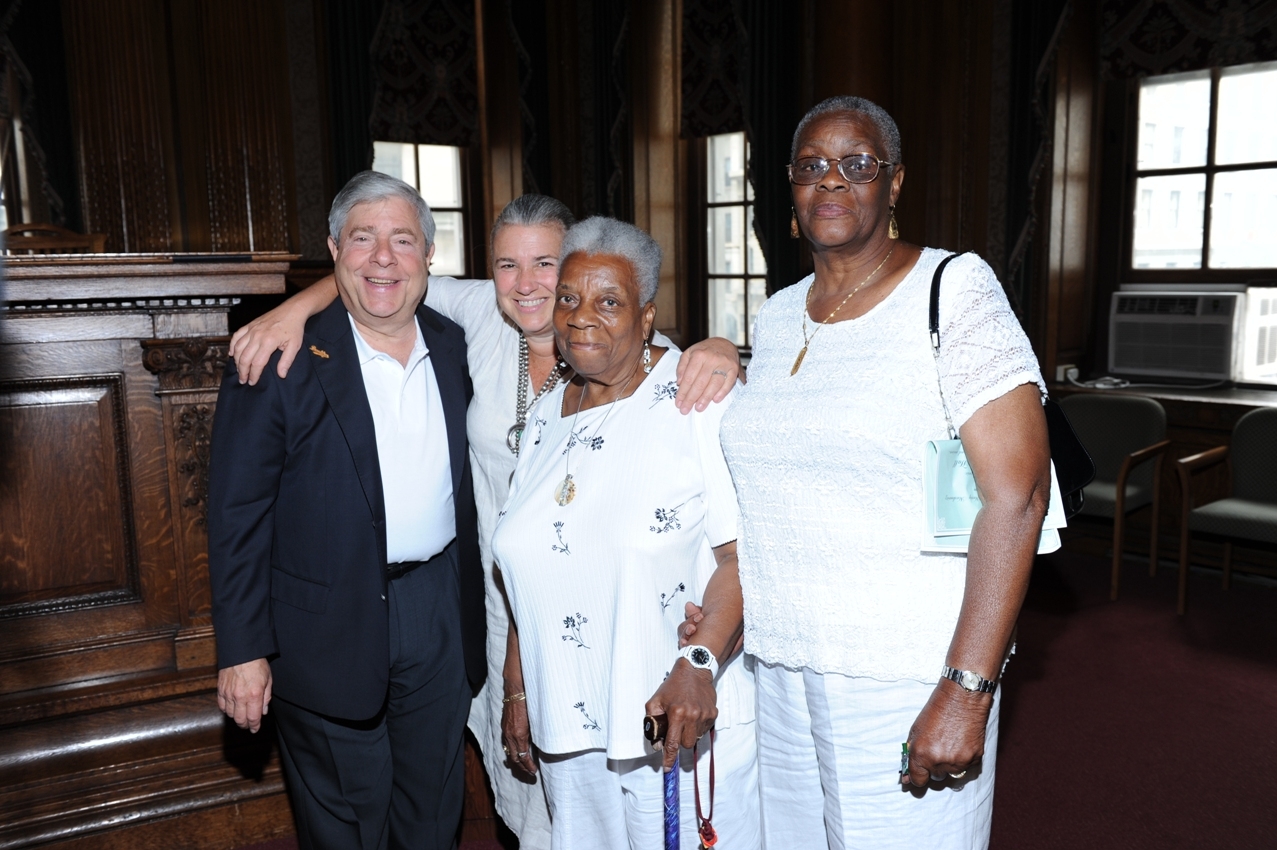 In photo 1 (left to right): BP Markowitz, Jamie Markowitz, and newlyweds Barbara Pilgrim and Geraldine Whitsett of Park Slope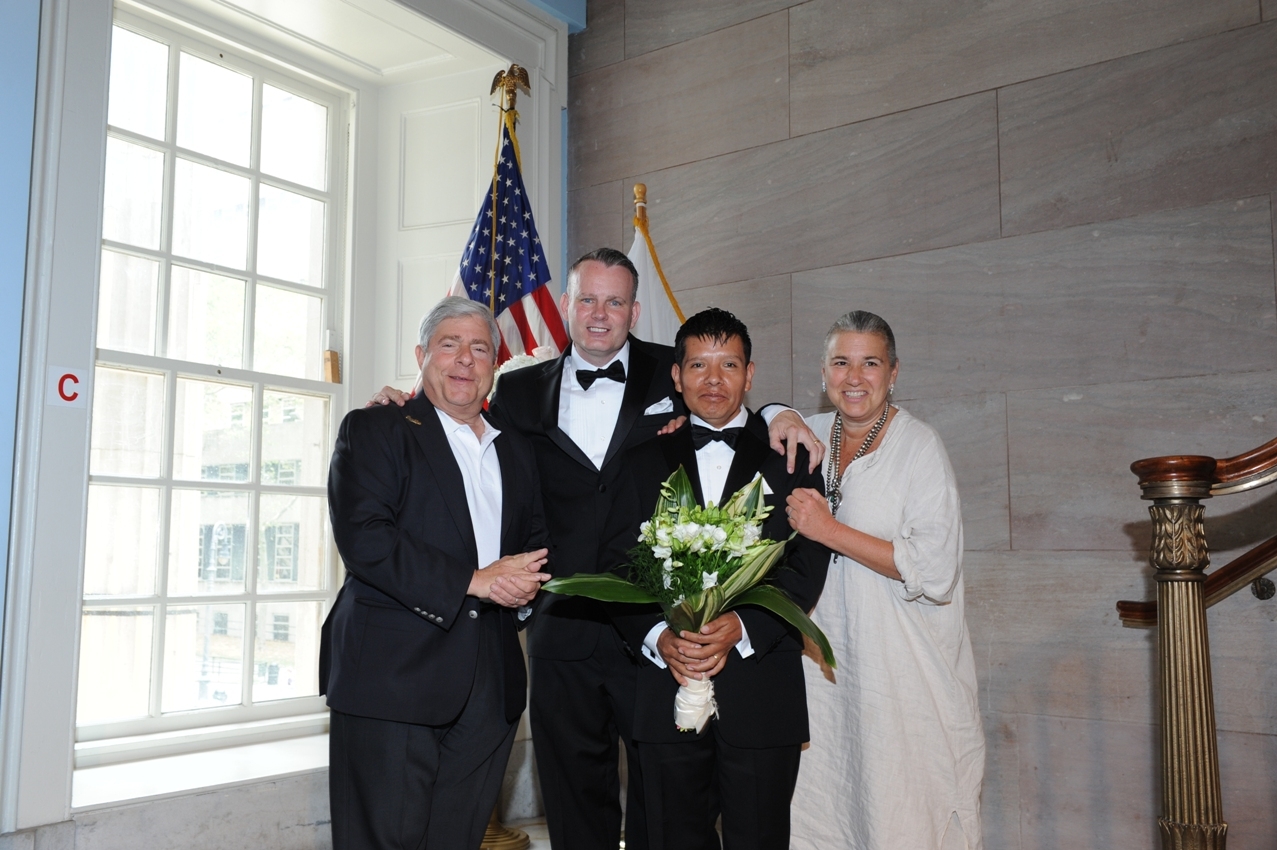 In photo 2 (left to right): BP Markowitz, spouses John Torres-Rojas and Eufemio Torres-Rojas of East Williamsburg, Jamie Markowitz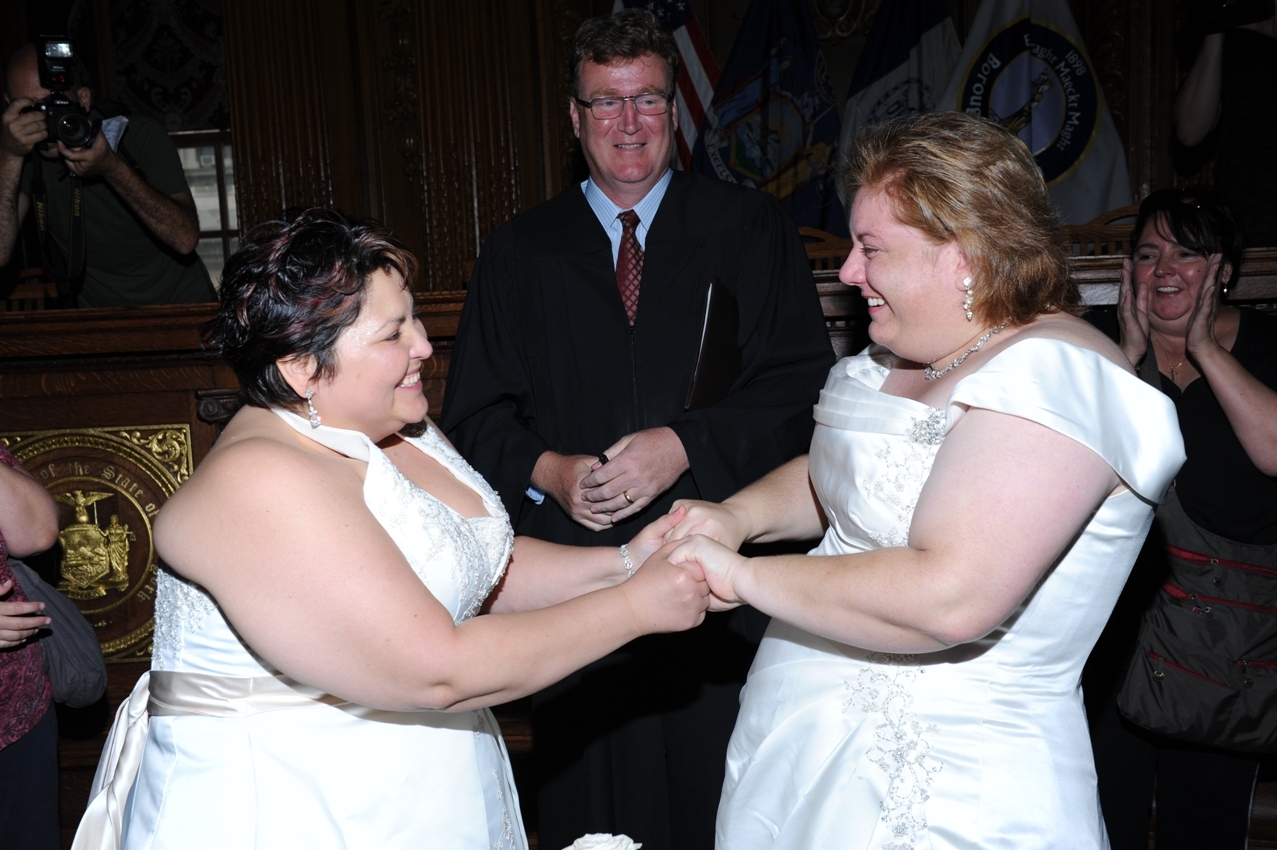 In photo 3: Newlyweds Stacey Minondo and Barbara Tremblay of Downtown Brooklyn marry at Brooklyn Borough Hall with Judge Bernard Graham officiating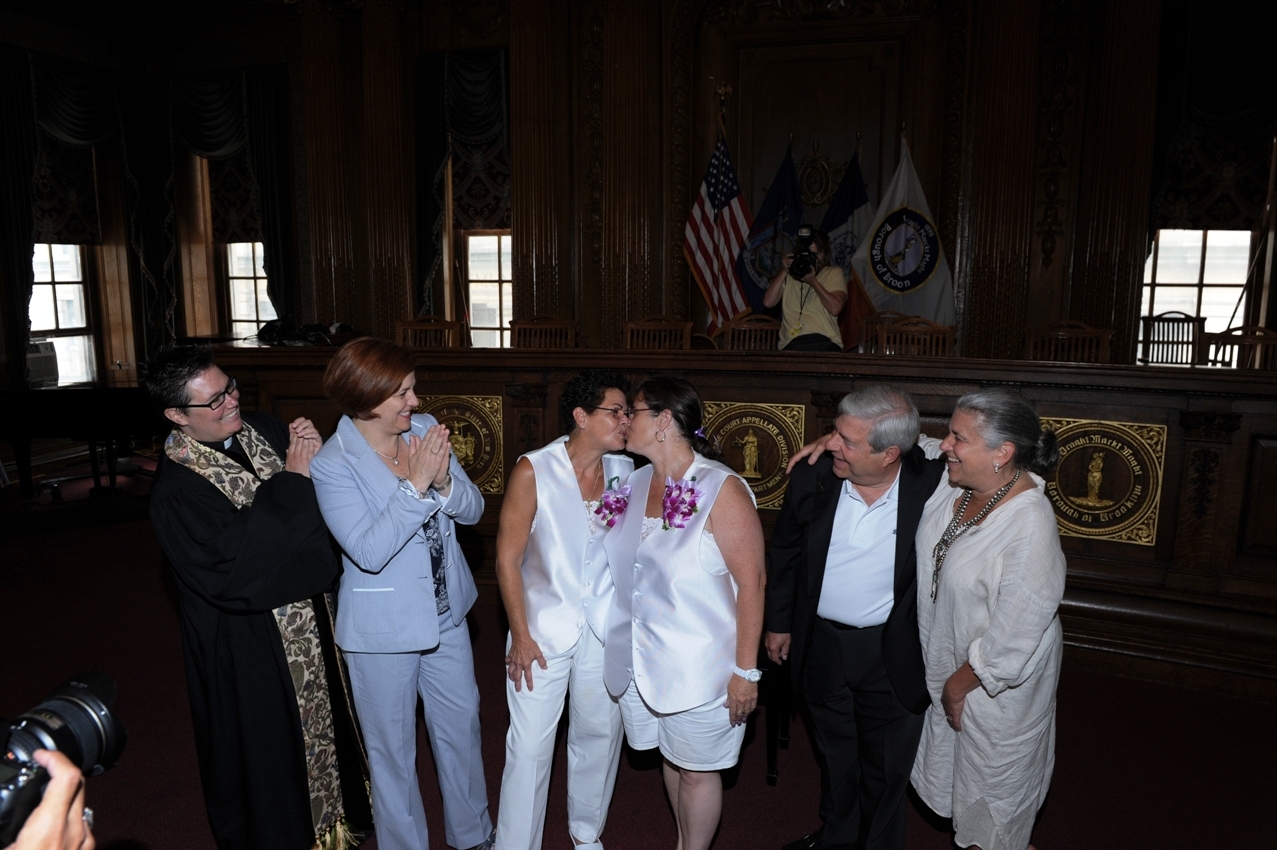 In photo 4 (left to right): Pastor Ann Kansfield, City Council Speaker Christine Quinn, couple Linda Wilkins and Annette Fisher of Sea Gate, BP Markowitz, Jamie Markowitz