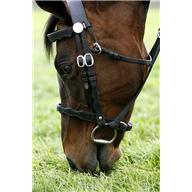 Carmen Vichot was injured when she ran into a horse.
After the Clinton County Supreme Court denied the animal-owner's request to dismiss the suit, he appealed to the Appellate Division, Third Department.
Since the litigation couldn't be maintained unless there was evidence that the horse had a propensity to escape and roam free, the AD3 reversed and put that case down.
Of course, of course.

To view a copy of the Appellate Division's decision, please use this link: Vichot v. Day