NYC Master Composter Certificate Course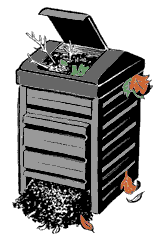 The NYC Compost Project Master Composter Certificate Course is a train-the-trainer program with a community service component. This course was developed by the NYC Compost Project and the DSNY Bureau of Waste Prevention, Reuse and Recycling .

course description


course dates


online application
---
Master Composter Course Description
The Master Composter Certificate Course requires 18-23 hours of classroom instruction, two field trips, plus 15 hours of supervised community training, and 15 hours of independent projects/community service helping to advance on-site composting in NYC. This course covers the following topics:

the small-scale composting process

how to use finished compost

how to design and build on-site compost systems

techniques for teaching others about composting
For the community service component, participants engage in projects based upon their interests and the goals of the NYC Compost Project. Potential projects might include giving composting classes at schools and civic associations, building compost bins at community gardens, staffing compost info tables, or working at compost demonstration sites.

NYC Compost Project host sites in the Bronx, Brooklyn, Queens, and Staten Island offer the Master Composter Certificate Course every spring and the NYC Compost Project in Manhattan offers the course in the fall.
See upcoming Master Composter course dates for each borough to find out when the next Master Composter course is being held.
To apply, use the online application form . After you submit your application, the specified NYC Compost Project site will contact you about upcoming Master Composter trainings.
Course material fee is $40; limited scholarships are available.
back to top | back to nyc compost project
---
Master Composter Course Dates
NYC Compost Project in the Bronx
Application deadline: February 20, 2011
Class dates and time: 6 Tuesdays, 6 to 9 pm, March 29, April 5, 12, 26, May 3, 10
Field trips: 2 Saturdays in April 2011, details TBA
Location: The New York Botanical Garden

NYC Compost Project in Brooklyn
Application deadline: February 18, 2011
Class dates and time: 8 Thursdays, 6 to 9 pm, March 17, 24, 31, April 7, 14, 28
Field trips: 2 weekend days in May 2011, details TBA
Location: Brooklyn Botanic Garden

NYC Compost Project in Queens
Application deadline: February 1, 2011
Class dates and time: 8 Tuesdays in Spring 2011, 6 to 9 pm, March 1, 8, 15, 22, 29, April 5, 12, 26
Field trips: 2 weekend days in Spring 2011, details TBA
Location: Queens Botanical Garden

NYC Compost Project on Staten Island
Application deadline: February 27, 2011
Class dates and time: 7 Wednesdays in Spring 2011, 6 to 9 pm, March 16, 23, 30, April 6, 13, 20, 27
Feld trips: 2 weekend days in Spring 2011, details TBA
Location: Snug Harbor Cultural Center and Botanical Garden (Building P)