Dear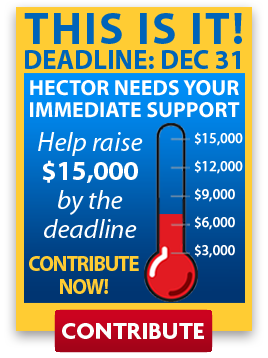 Lucas -
Hector and I love the holiday season because it reminds us of the things that are most important to us--our kids, our family, our friends.
This year was especially meaningful because Hector is in the midst of his exciting campaign to become the next senator from New Mexico. Sure, it's hard. But Hector's passion is serving the people of this great state, so he's enjoying the campaign trail.
Right now, we're approaching one of the most critical points in our journey. December 31 is the final filing deadline of the year, and everyone will be watching his numbers to see how strong his campaign is.
Hector doesn't have any deep-pocketed special interests bankrolling his campaign. But what he does have is you. With your help right now, he can meet his vital goal of raising $15,000 by midnight on December 31 and show his opponents and the pundits that he's ready and able to win this race. Can we count on your support right now?
Click here to rush your contribution to Hector's campaign before the critical deadline of midnight on December 31. He's got to make his goal of raising $15,000 in order to stay on track.
I know I'm biased, but there's no doubt that Hector is the right choice for New Mexico. Time and again he's proven to be someone who can effect positive change and improve the lives of hardworking families.
I also know that he's capable of winning. Just look at how he beat the odds and won a seat in the State Legislature, then made history when he was elected State Auditor, becoming the youngest Hispanic statewide elected official in the entire country.
Once again, Hector's the underdog, but that doesn't faze him. He just works harder. Of course, he can't do this alone. He needs the support of the grassroots. He needs you.
There aren't any big banks or big insurance companies funding him. Hector isn't a well-connected Washington insider. That means he needs you now more than ever. Make a donation today--before the important December 31 filing deadline--and you'll help him reach his goal of raising $15,000 by the end of the year.
Click here to contribute to Hector's campaign right now, before midnight on December 31. We can't risk missing this critical goal. There's too much at stake.
I know this is a tough time to be asking for money, but I wouldn't do it if it weren't truly important. I hope you can find a way to help Hector out today.
Sincerely,
Denise Balderas