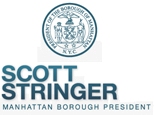 Manhattan Borough President Civic Leader of Tomorrow Public Policy Fellowship
This is an opportunity for undergraduate students to engage in work involving public policy. Fellows will work with a not-for-profit organization for a minimum of eight hours per week for a full semester. Fellows will receive a $1000 stipend for the duration of the Fellowship.
Please send applications to:
Civic Leaders of Tomorrow
Manhattan Borough President Office
1 Centre Street, 19th Floor
New York, New York 10007
or via email to civicleaders@manhattanbp.org .
The application deadline is September 14th, 2011.