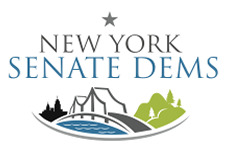 Dear Lucas,
I'd like to invite you to our Holiday Party, hosted by Majority Conference Leader John Sampson and New York Senate Dems Chair Jeff Klein.
I hope you'll join us on Tuesday, December 14th at 6pm as we welcome Senators-Elect Tony Avella, David Carlucci, Adriano Espaillat, Mike Gianaris, Tim Kennedy, and Gustavo Rivera to the Democratic Senate Conference.
When: Tuesday, December 14th
Time: 6pm - 7:30pm
Where: New York City
Admission: $500 (Friend); $1000 (Supporter); $2500 (Sponsor); $5000 (Host)
To RSVP, contact Heather Jung at (518) 462-2867, or send an email to hjung@newyorksenatedems.com .
Thank you for your support, and I hope to see you on the 14th.
Josh Cherwin
Executive Director
New York Senate Dems