MAYOR BLOOMBERG, TRANSPORTATION COMMISSIONER SADIK-KHAN ANNOUNCE 'GREEN LIGHT FOR MIDTOWN' PROJECT WILL BE MADE PERMANENT

Pilot Project Improved Speeds by Seven Percent in West Midtown

Dramatic Increases in Pedestrian and Motorist Safety

Times Square Alliance Study: New Yorkers and Local Businesses want Plazas made Permanent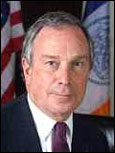 Mayor Michael R. Bloomberg and Department of Transportation Commissioner Janette Sadik-Khan announced (yesterday) that the Green Light for Midtown pilot initiative to improve traffic and safety at Times and Herald Squares will be made permanent. A comprehensive evaluation report submitted to the Mayor by the Department of Transportation found that the project increased taxi speeds by 7 percent overall in West Midtown and greatly enhanced safety at two of the city's most accident-prone locations. A before-and-after analysis of vehicle speeds, using global-positioning data from more than 1.1 million taxi trips, showed the 7 percent overall improvement in taxi speeds, which includes: a 17 percent increase in northbound travel speeds, a 2 percent decrease in southbound travel speeds, a 5 percent increase in eastbound travel speeds and 9 percent increase in westbound travel speeds. Safety at Times and Herald Squares improved dramatically, with a 63 percent reduction in injuries to motorists and passengers and a 35 percent reduction in pedestrian injuries. The Mayor was joined at the announcement by 34th Street Partnership President Daniel Biederman, Macy's, Inc. Senior Vice President of External Affairs Ed Goldberg, Broadway League Executive Director Charlotte St. Martin, Marriott International Area General Manager Michael Stengel and Times Square Alliance President Tim Tompkins.
"As promised, we're presenting a full report on our bid to reduce congestion and increase safety in one of the busiest parts of our city," said Mayor Bloomberg. "After an exhaustive review that showed positive results in all aspects, and overwhelming improvement in many areas, we've decided to make this groundbreaking pilot project permanent. The most reliable data shows an overall seven percent increase in vehicle speeds - an improvement few thought could be achieved in midtown traffic. We found even better results in the area of safety, with dramatic reductions in accidents. Surveys indicate clear support among New Yorkers and local businesses for the project, and the increased foot traffic has been good for business. The bottom line is overall traffic in midtown has improved and New Yorkers and city businesses are benefiting from a Times and Herald Square that are safer, more exciting destinations."
"The new Broadway is here to stay," said Transportation Commissioner Sadik-Khan. "We will now design a world-class public space that's a new center stage for the greatest city in the world."

Public support for the project has been overwhelmingly positive - a Times Square Alliance survey this fall found 76 percent of all New Yorkers and 68 percent of retail managers in Times and Herald Squares said the project should be made permanent. The City will begin a process to design permanent changes to the plaza space in Times Square through a partnership with an array of professionals and stakeholders.
Evaluation Report Findings - Mobility
The evaluation report utilizes two sets of traffic data to evaluate the Green Light for Midtown project, Global Positioning System (GPS) data from more than 2 million taxi trips and field travel time surveys conducted by the Department of Transportation.
Taxi GPS
Taxi GPS data provides direct observation of travel times for actual trips in the project area and reflects the routes chosen by taxi drivers and/or their passengers based on actual traffic conditions. The GPS device records the time and location of the start and the end of a trip in revenue service. It also records the trip length, therefore providing an average trip speed. Taxis comprise about 45 percent of all vehicles in the study area, providing an observation of the largest segment of all vehicle trips in the area. Taxi data was collected for weekday trips from 7 a.m. to 8 p.m. and the data is based on 1.1 million taxi trips in West Midtown and 890,000 trips in East Midtown that occurred in September and October 2008 and September and October 2009. Data for East Midtown serves as a "control" to account for any overall changes in traffic speeds that occurred between the time periods reviewed in the report.
The following is a breakdown of taxis trips in midtown where the main direction of travel was assigned based on the direction of 50 percent or more of the travel in each trip:
Main Direction of Travel

West Midtown

East Midtown

M.P.H.

M.P.H.

2008

2009

Change

2008

2009

Change

North

6.5

7.6

+17%

7.9

8.5

+8%

South

7.3

7.2

-2%

8.3

8.5

+3%

East

5.7

6.0

+5%

7.2

7.3

+2%

West

6.0

6.5

+9%

5.5

5.9

+7%

Total

6.7

7.2

+7%

7.8

8.2

+5%

West Midtown runs from 5th to 9th Avenues and from 23rd to 59th Streets. East Midtown is the same street range east of 5th Avenue to the East River.
Additional taxi GPS data from trips where 80 percent of trip mileage was in one direction - a smaller data set - provided similar, positive results. Northbound taxi trips in West Midtown were 21 percent faster in fall 2009 compared with fall 2008, while East Midtown showed a 9 percent increase. Southbound taxi trips declined in speed by 3 percent in West Midtown, while East Midtown showed a 3 percent increase. The speed of eastbound taxi trips improved by 5 percent and westbound trips improved by 9 percent in fall 2009 in West Midtown compared with a year earlier, while East Midtown showed improvements of 1 percent for eastbound trips and 6 percent for westbound trips.
Field Travel Time Surveys
The field travel time surveys were conducted using the "floating car run" technique. Vehicles are driven the length of the roadway segment being studied and the driver stays in the main flow of traffic, with approximately as many vehicles passing the floating car as are passed by the floating car. A second data-collection staff person records the exact time at the start and end of the trip and at designated checkpoints. Field travel time surveys were conducted prior to project implementation in March 2009 and after project implementation in September and October 2009, making the field study subject to potential seasonal variations. Field travel time surveys were conducted on each avenue from 5th Avenue to 9th Avenue, major cross streets and selected minor cross streets. Approximately 140 travel time surveys were conducted on each avenue and street in the spring and approximately 140 surveys in the fall. A total of 5,723 travel time runs were conducted in the West Midtown study area.
Field Travel Time survey data indicates vehicle travel times in West Midtown improved by 4.9 percent for vehicles traveling north and 0.1 percent for vehicles traveling south, compared to last spring. According to field travel time surveys, travel times for vehicles traveling on selected eastbound streets were 12.7 percent longer and travel times for vehicles traveling on selected westbound streets were 12.6 percent longer, compared to last spring.
Evaluation Report Findings - Safety
Due to the complex intersections caused by Broadway's diagonal route across the City's roadway grid and the high volume of pedestrian traffic in Times and Herald Squares, the locations studied are extremely prone to vehicle-pedestrian accidents, with Times Square seeing an average of 2.37 times more crashes involving pedestrians compared to other avenues in the area. The project was designed to increase safety for pedestrians, bicyclists and vehicle occupants on the most heavily used sidewalks and roadways in the City. The Green Light for Midtown project simplified intersections, shortened crosswalks, organized and defined traffic lanes and separated conflicting movements between pedestrians and motorists. The safety impacts were measured using NYPD data comparing accident statistics from June through November 2009 to the averages for the same months from the three previous years.
Since the traffic changes were implemented on Memorial Day Weekend 2009:
Injuries to motorists and passengers in the project area are down 63 percent and
Pedestrian injuries are down 35 percent.
Evaluation Report Findings - Additional Findings
The Times Square Alliance conducted a survey that found widespread support for the plazas and for making them permanent. The survey found that 76 percent of New York City residents supported making the plazas permanent, while business in the Times Square area also supported the changes, with 68 percent of retail managers surveyed saying the plazas should be made permanent.
The survey found 60 percent of Times Square workers, 60 percent of property owners and building managers and 71 percent of local retail managers felt Times Square has been improved since the project was implemented.
More than 70 percent of theatergoers said that the new plazas have had a positive impact on their experience and more than 42 percent of city residents said they have shopped in the neighborhood more frequently since the changes.
The Green Light for Midtown Evaluation Report also found increased pedestrian activity in Times and Herald Squares. The number of pedestrians traveling along Broadway and 7th Avenue in Times Square and traveling in Herald Square increased by 11 percent and 6 percent, respectively, increasing foot traffic for the businesses located in and around the two new plazas.
Additionally, a Quinnipiac University Poll Finds from last summer found 58 percent of New Yorkers thought the Green Light for Midtown project was a good idea.
Permanent Plaza Improvements
The City will begin work immediately with local partners to improve the look and feel of the plazas in Times Square through a series of surface treatments. The initial work is intended to improve the aesthetics of the plazas while a permanent capital project enters the design phase. A committee consisting of design professionals, stakeholders from Times Square and representatives of the Mayor's Office, the Department of Transportation and the Public Design Commission will select new, temporary surface treatments for the Times Square area through a competitive process.
For the permanent design, a team will be selected through the Design and Construction Excellence program administrated by the Department of Design and Construction. This program utilizes some of the most creative and experienced design professionals in the world, who are creating signature public buildings and spaces across the city. The permanent redesign selection committee will consist of representatives from the Department of Transportation, the Department of Design and Construction, the Times Square Alliance, the Department of City Planning, the Public Design Commission and the Mayor's Office. The redesign will incorporate new paving and permanent seating, as well as innovative underground event infrastructure to ensure Times Square is wired for sound and light to accommodate the many signature events that occur there every year. The project will also completely reconstruct the roadways in Times Square, which have not been structurally repaired in decades.
"In our view, the 34th Street/Herald Square area looks and functions much better as a result of the Mayor's initiative," said 34th Street Partnership President Daniel Biederman. "Tourists, suburbanites, and New Yorkers are using our movable chairs, tables and umbrellas in both good weather and bad. Traffic through Herald Square, by our observation, is flowing much better, thanks to the elimination of the former 'three-phase' traffic light. Our highest compliments to the Mayor and the DOT - New York's retail and pedestrian life is better with the new alignment, rather than four lanes of noisy traffic through our key intersection."
"In the year that a new Broadway has become a reality, we've seen a new vibrancy in the Herald Square area," said Macy's, Inc. Senior Vice President of External Affairs Ed Goldberg. "More people are taking the time to enjoy the area and experience first-hand the exciting opportunities that exist on one of the world's most famous streets. We applaud the Mayor and the City of New York for their vision of the City's future."
"For theatergoers, the Broadway plazas are a new stage in the world's premier theater district," said Executive Director of The Broadway League Charlotte St. Martin. "Times Square is hallowed ground for theater lovers and a point of pride for New Yorkers. By making these spaces permanent, the City has helped improve traffic flow to the area, and ensured that this iconic neighborhood remains vibrant and welcoming for future generations to come."
"New Yorkers were skeptical at first, but the bottom line in two different independent surveys we commissioned is that across virtually every category, the majority of New Yorkers, Tri-State residents, local employees, property owners, store managers, theatergoers, executives and our board members all feel that the plazas should be made permanent, and that Times Square has improved as a result of the plazas," said Times Square Alliance President Tim Tompkins. "And since the majority of those surveyed made clear they want the permanent plazas to be world-class in terms of design and appearance, we look forward to working with the city to make the Times Square plazas well-designed, using high-quality materials."
About Green Light for Midtown
The pilot program was announced in February 2009 and began in May 2009, with traffic routed away from Broadway from 47th Street to 42nd Street and from 35th Street to 33rd Street. Work was completed in late August. The project re-connected Seventh Avenue through Times Square, which was previously bisected by Broadway, and simplified traffic patterns and increased the duration of green lights. Taken together, the pedestrian areas created under Green Light for Midtown have brought more than 2½ acres of new public space for shoppers, office workers and tourists. This additional room also expanded the front doors to local stores and restaurants and increases the capacity for foot traffic to increase sales.
To view the full Green Light for Midtown Evaluation Report, visit www.nyc.gov .