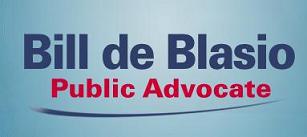 Dear Lucas,
On Monday, December 13th, we will host a fundraising reception in support of NYC Public Advocate Bill de Blasio at the Waldorf Astoria from 6:00pm to 8:00pm.
We would be grateful if you would be willing to lend your name to our event invitation and sign up for one of the following host committee levels: $10,000 Co-Chair, $5000 Vice-Chair, $2500 Sponsor or $1000 Host Committee. Individual tickets for the event start at $500. Please see below for more details.
As always, we truly appreciate your support, and Bill looks forward to seeing you on December 13th.

Please join us for
a cocktail reception in support of
New York City Public Advocate
Bill de Blasio
Co-Chairs
Paul Adler• Gina Argento • Tony Argento • Barry Berke • Sid Davidoff
Jon Del Giorno • Vivian & Joseph Douek • Gabrielle Fialkoff • Abe Friedman
Nicholas Gravante, Jr. • Elly Kleinman • Allison Lee • Tondra & Jeffrey Lynford
Rachel McPherson & W. Patrick McMullan • Elizabeth Sackler
Vice-Chairs
Bruce W. Both •Kuba Brown•John Calvelli • James Claffey, Jr. • Fidel Del Valle
Janice Enright • Matt Hiltzik • Daniel Holt • Harold Ickes •Marianna Koval
Joan & Mark Peters • Pat Purcell
Host Committee
Marc Agger • Sean Andrews • Peter Aschkenasy • John Banks Christopher Barley & Jonathan Sheffer • Ravi Batra • Chris Carr
Henry Christensen • Bunny Ellerin & Geoffrey Vincent • Carmen Farina • Al Garner • Catherine Giuliani Nancy Hollander & Ken Sunshine
Edith Holzer • Jill Iscol • Nur Khan • Tom Kirdahy David Kramer • Mike McGuire • Lee Perlman • Yussi Rieder • Frances A. Resheske
Jonathan Rose • Jeffrey Sachs • Reshma Saujani • Arnie Segarra • Chris Serino Jo Anne Simon • Jeff Thamkittikasem
Robert Troeller • Peter Vallone, Sr.
--Event Committee in Formation--
Chair: $10,000
Vice-Chair: $5,000
Sponsor: $2,500
Host Committee: $1,000
Individual: $500
Monday, December 13, 2010
6:00 P.M. - 8:00 P.M.
Waldorf Astoria Hotel
The Louis XVI Suite
301 Park Avenue
New York, NY
For more information or to RSVP, please contact Rafi Jafri at
(917) 975-8565 or rafijafri@gmail.com