FOR IMMEDIATE RELEASE
PR- 476-09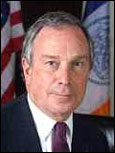 MAYOR BLOOMBERG ANNOUNCES MAJOR REFORM TO CITY'S BONDING POLICY TO INCREASE OPPORTUNITIES FOR SMALL BUSINESSES

U.S. Small Business Administration Guarantee Program Will Now Be Available to City's Small Businesses, Opening Up Opportunities to Win Contracts Totaling Up to $500 Million Per Year

Helping Small Businesses Grow and Making It Easier to Operate in New York City Is Part of the Bloomberg Administration's Five Borough Economic Opportunity Plan

Mayor Michael R. Bloomberg today announced the City has reformed its bonding policy, easing requirements and increasing opportunities for small and minority-owned businesses. The U.S. Small Business Administration (SBA) has approved the measures, which will allow the City's small businesses to participate in the federal Surety Bond Guarantee Program that helps companies secure bonds required to do business with the City. The change will open up contract opportunities for these businesses of up to $500 million a year. Helping small businesses grow and making it easier to operate in New York City is part of the Bloomberg Administration's Five Borough Economic Opportunity Plan .
"New York City's small businesses are the backbone of our economy, and it's our job to make doing business in this city as easy as possible for them - especially in today's economic climate," said Mayor Bloomberg. "Smaller contractors often have a tough time securing the bonds necessary to back City contracts, but we're taking aggressive steps to change that. Our companies will now be able to benefit from the federal program that's designed to help them secure the bonds and get the jobs. Not only will it mean hundreds of millions of dollars in new contract opportunities for New York City's small businesses, it will also mean reduced construction costs for the City as the pool of bidders will increase significantly."
"This new bonding policy removes barriers for many of our small businesses," said Department of Small Business Services Commissioner Robert W. Walsh. "Our goal is to encourage more participation in City contracting and create more opportunities for these businesses that are crucial to our city's economic growth."
New York City requires companies doing business with the City to obtain performance bonds for all construction projects greater than $500,000, but smaller contractors often have difficulty securing them. The reforms will allow the city's small businesses to participate in the SBA Surety Bond Guarantee Program, which helps companies secure the bonds. Smaller contractors, especially recent start-up businesses, have often experienced difficulty in securing bonds, which has been made even more difficult with the recent tightening of the credit markets. Historically, the program has been unavailable to bidders on New York City capital projects because of the terms of the City's performance bond form.
In 2008, Mayor Bloomberg convened the Capital Cost Containment Task Force, led by Deputy Mayor for Operations Edward Skyler and Deputy Mayor for Economic Development Robert C. Lieber, to identify opportunities to reduce construction costs. A key mandate was to evaluate the City's bonding requirements, which are intended to protect the City against the risk of contractor default, to ensure that the City was appropriately balancing the need for such protections against the potential loss of some qualified competitors and the resulting impacts on construction costs. As a result, a comprehensive review was conducted by the Mayor's Office of Contract Services , the City's Law Department , and the Departments of Design and Construction and Small Business Services, which resulted in the bonding policy reforms.
The new bond form will be used for all prime contracts that do not exceed $5 million, and the City is encouraging prime contractors on larger projects to permit their subcontractors to use the SBA bond form for qualifying subcontracts. The contracts include projects from the City's departments of Environmental Protection , Parks and Recreation , and Design and Construction.
SBA's Surety Bond Guarantee Program gives bonding agents an incentive to provide bonding for eligible contractors, and thereby provides greater access to contracting opportunities. A surety guarantee - an agreement between a bonding agent and SBA - provides that SBA will assume a predetermined percentage of loss in the event the contractor should default on its contract with the City and not satisfy its obligations. Under the new policy, SBA will assume the risk of 80 percent of the losses in such an event.
The American Recovery and Reinvestment Act (ARRA) recently increased the limit of the SBA's bond guarantee program from $2 million to $5 million, thus increasing the benefits of the program.
"The revisions to the City's performance bond will make it easier for small contractors to compete for New York City public works contracts," said Thomas Petropole, owner of the Petropole Bonding & Insurance Agency in Brooklyn. "We expect that these changes will make a huge difference for the city's small and minority- and women-owned contractors."
"Getting a bond is very expensive and bonding companies have very stringent requirements," said Mohamed Shawkat, President of Pyramid Paving Company, an asphalt manufacturer on Staten Island. "This new bonding program will give me the opportunity to bid directly as a prime contractor and help my company grow."
The Bloomberg Administration's Five Borough Economic Opportunity Plan is a comprehensive strategy to bring New York City through the current economic downturn as fast as possible. It focuses on three major areas: creating jobs for New Yorkers today, implementing a long-term vision for growing the city's economy, and building affordable, attractive neighborhoods in every borough. Taken together, the initiatives that the City has launched to achieve these goals will generate thousands of jobs and put New York City on a path to economic recovery and growth. To learn more about the plan, visit nyc.gov .
Recent Five Borough Economic Opportunity Plan announcements to help diversify the economy include:
30 new initiatives to create 13,000 green jobs and grow New York City's green economy.
A fashion business incubator in the Garment District to help emerging designers grow.
Five new initiatives to help strengthen New York City's cultural sector.
A marketing and tourism agreement to boost travel between New York City and London.
Broadway had its biggest season ever, selling 12 million tickets generating $943 million.
More than 800 retailers throughout the five boroughs participated in Fashion's Night Out.
Resources for workforce training to New Yorkers for jobs in a green economy.
ImClone will locate its research headquarters at the City's new bioscience complex.
A plan to create 11,000 permanent industrial jobs on Brooklyn's working waterfront.
Eight initiatives to strengthen the media industry in New York City.
New international cruise activity, growing New York City's 13,000-job cruise industry.
Steps to help New York City's bioscience companies compete for Federal funding.
Legislation that will green buildings and create 19,000 construction jobs.
Green projects at the Brooklyn Navy Yard are creating more than 1,700 permanent jobs.
Comprehensive initiatives to support the nonprofit sector and its 490,000 jobs.
New programs to provide training and resources for City's future entrepreneurs.
The start to construction of the International Gem Tower, which will house 3,000 jobs.
Other recent Five Borough Economic Opportunity Plan announcements include:
The start of construction of a $23 million supermarket at the Arverne by the Sea complex.
Despite the downturn, the City placed New Yorkers in a record 6,800 jobs in 3Q 2009.
Stimulus funds to begin training for 90 new FDNY Emergency Medical Technicians.
An increase in MWBE contracts in FY 2009, bringing the total to more than $1 billion.
The City hosted a bilingual small business seminar for Latino business associations.
A $150 million redevelopment plan for the Staten Island Homeport.
The approval of Recovery Zone bonds to create 960 jobs

in

Queens and Brooklyn.

The City financed 12,500 low- and middle-income affordable units in the last year.
The start of construction of the $148 million

East River Waterfront Esplanade.

The first housing projects to start using TCAP stimulus funds, creating 2,800 jobs.
The start of construction of an affordable housing complex in the South Bronx.
Steps to prevent a speculative purchase of Ocelot Capital Group sites in the South Bronx.
Plans for the first 120 units of the Seaview Senior housing project in Staten Island.
SecondMarket, Inc. will create 367 new jobs in Lower Manhattan through JCRP.
$1 million to create a shared commercial kitchen at La Marqueta in East Harlem.
The start of construction of

a 600-unit mixed-income complex in the Bronx.

The start of construction of major improvements to Queens Plaza and Jackson Avenue.
$100 million for 14 infrastructure projects across Queens that will create 400 new jobs.
The adoption of the City's plan for Coney Island that will create more than 30,000 jobs.
New initiatives to help support Hispanic-owned small businesses.
The opening of China Construction Bank's New York City office.
11 new initiatives to support the financial services sector and promote entrepreneurship.
$350,000 in NYC Business Solutions Training Funds awarded to small businesses.
Enhancements to the City's Minority- and Women-Owned Business Enterprise Program.
The opening of a

125-unit mixed income housing development in the Central Harlem

.

A record 10,500 job placements through the first half of 2009.
A plan to convert unoccupied apartments and stalled sites into affordable housing.
The opening of New Mount Hope Community Center in the Bronx.
The purchase of the Hunter's Point South site to create a new, affordable neighborhood.
A public campaign to help more New Yorkers get free foreclosure prevention services.
The start of services of the Park Slope 5th Avenue Business Improvement District.
A stimulus-funded bond program to spur commercial and industrial projects citywide.
The City will use nearly $32 million to train 10,000 New Yorkers for jobs.
New space for 20 small businesses in Bushwick, creating more than 80 industrial jobs.
City's Workforce1 Centers in Harlem and Jamaica received awards for innovation.
Food Retail Expansion to Support Health (FRESH) program to encourage grocery stores.
City-supported loans unavailable from banks to help small businesses stay in operation.
Three new Financial Empowerment Centers offering free, one-on-one financial coaching.
Stimulus funding to help the City provide summer jobs for 51,000 young New Yorkers.
The opening of New Hope Walton Project, housing for low-income residents in Harlem
New affordable housing at Gateway Building, a long-vacant structure in the South Bronx.
The Harlem Business Assistance Fund to help businesses relocate to the 125th Street area.

The expansion of NYC Business Express to help businesses obtain permits and licenses.

The

"Nine in '09" campaign

to promote economic activity in diverse neighborhoods.
A Center for Economic Opportunity program put 4,000 low-income New Yorkers in jobs.
Stimulus-funded community development projects that will strengthen neighborhoods.
Stimulus-funded Housing Authority projects that will create jobs for 3,255 New Yorkers.
The start of construction of 103 units of affordable housing in Brownsville.
The opening of Home Depot in the South Bronx creating 200 new permanent jobs.
The latest round of training funds to help small businesses train their employees.
The placement of 50 laid-off New Yorkers into positions at entrepreneurial companies.
New York City achieved a record 5,000 job placements through the first quarter of 2009.
Help for a beer distributor to create 55 permanent and 30 construction jobs in the Bronx.
Federal stimulus transportation projects that will create or preserve 32,000 jobs.
Steps the City is taking to help small businesses adapt to conditions and avoid layoffs.
A plan to create and retain 400,000 jobs over the next six years.