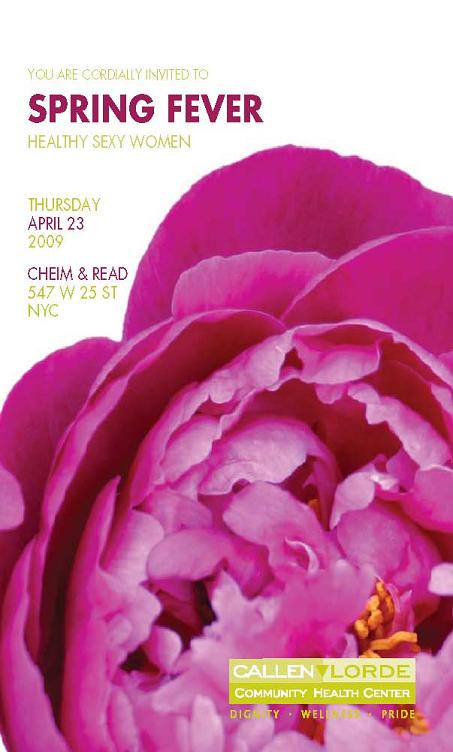 Won't you support Spring Fever 2009 on April 23rd?
Meet, mix, mingle with other women who support the life-saving work of the Callen-Lorde Community Health Center. Everyday, Callen-Lorde provides a welcoming, respectful, non-judgmental setting available to all women in our community, but especially for those with the fewest options ... please join in our effort to keep our community healthy.
For tickets to Spring Fever, CLICK HERE to make a secure purchase on line.
If you are not a woman and would still like to support this event as a Brother Supporting Sisters, please consider making a donation HERE . Also a good option if you can't attend but still want to donate!
Please be as generous as you can.
Sincerely,
Spring Fever 2009 Host Committee
Ellen Alpert and Janice Sears
Elisabeth Benjamin
Josie Holford and Sue Scheid
Arlene Kochman and Lea Borenheim
Elizabeth Lorde-Rollins and Judy Boals
Annette Niemtzow and Eve Ellis
Anita Radix and Janine le Sueur
Karen Sauvigne
Jennifer Silverman and Retha Powers
Stacey Silvers and Beth Haley
Claudia Slacik
Carrie Smith and Cynthia Swain
Kimberleigh Smith and Betsy Crenshaw
Wendy Stark
Sandy Turner
Rona Vail and Cindy Broholm
Rochelle Weitzner and Cathy Tanelli
CLICK HERE to purchase tickets to Spring Fever 2009 online.
For more information, call Ed Galloway in Callen-Lorde's Development Office, 212-271-7263.
Thanks!