FOR IMMEDIATE RELEASE:
July 28, 2009
GOVERNOR PATERSON HONORS POLICE OFFICER OF THE YEAR RECIPIENTS

NYPD Detectives Russel Timoshenko and Herman Yan Recognized for Bravery, Valor
---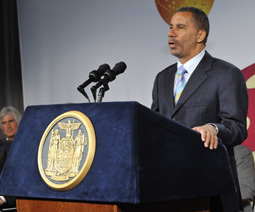 Governor David A. Paterson today bestowed Police Officer of the Year honors on two members of the New York City Police Department. The Governor posthumously honored Detective Russel Timoshenko as well as Detective Herman Yan for the heroism they exhibited on July 9, 2007. Detective Timoshenko was killed in the line of duty and Detective Yan was injured during a routine traffic stop in Brooklyn.

"When Detectives Yan and Timoshenko became sworn members of the New York Police Department, they promised to 'serve and protect' the public, knowing full well the implications of that oath and the danger that would become a part of their everyday lives," said Governor Paterson. "Yet they accepted that responsibility and valiantly carried out their duties. Recognizing these brave officers is not only the right thing to do, it is a personal honor. My respect for these courageous men is immeasurable."

Deputy Secretary for Public Safety and Commissioner of the New York State Division of Criminal Justice Services Denise E. O'Donnell said: "By honoring Detectives Yan and Timoshenko we honor all of the brave and dedicated law enforcement officers who risk their lives for us every day. Every citizen, myself included, owes a debt of gratitude to Detectives Yan and Timoshenko, and their colleagues around the state who keep our communities safe."

New York City Police Commissioner Raymond W. Kelly said: "Two years ago, Police Officers Russel Timoshenko and Herman Yan displayed the utmost courage in the face of mortal danger. New Yorkers will never forget their bravery or Russel's supreme sacrifice. I want to thank Governor Paterson for honoring these exceptionally deserving men."

The Police Officer of the Year Award was initiated in 1983 to recognize a single police officer or team for an exceptional act of valor symbolizing the service of police in New York State. Seventeen officers from 11 law enforcement agencies were nominated statewide for the 2007 award.

Officers Yan and Timoshenko were on routine patrol in Brooklyn during the early morning hours of July 9, 2007, when they pulled over a vehicle because the license plates were from another car. As Officer Timoshenko approached the passenger side of the vehicle, he was shot by a passenger in the car, and was struck in the mouth and neck. Officer Yan, who approached the driver's side of the vehicle, was also shot in the arm as another bullet was deflected by his bullet-resistant vest. Officer Yan returned fire, called for assistance and gave medical assistance to his partner while wounded and under fire. Officer Timoshenko, 23, died of his injuries after five days on life support.

In addition to the Police Officer of the Year Awards presented to Detective Yan and on behalf of Detective Timoshenko, the following officers will receive a Certificate of Exceptional Valor from Governor Paterson: Officer James S. Cerankowski of the Baldwinsville Village Police Department; Deputy Sheriff Thomas E. Meredith of the Erie County Sheriff's Office; Sergeants John E. Kibling and Todd L. Lemery of the Hudson Falls Village Police Department; Officers Rocco A. Greco and Michael Walsh of the Larchmont Village Police Department; Officers Patrick P. Cunningham, Jamie L. Johnson and Frank M. Speranza of the Middletown City Police Department; Trooper Amanda Reif of the New York State Police; Deputy Sheriff Daniel A. Bieling of the Onondaga County Sheriff's Department; Sergeant Michael D. Nicholls of the Rochester City Police Department; Officers Ramses Cerdas and Robert R. Falisi of the Suffolk County Police Department; and Sergeant Joseph B. Maggio of the Suffolk County Sheriff's Office.

---
Mayor Bloomberg issued the following statement in response to the Governor's announcement:

FOR IMMEDIATE RELEASE
PR- 348-09
July 28, 2009

STATEMENT OF MAYOR MICHAEL R. BLOOMBERG ON GOVERNOR PATERSON NAMING POLICE OFFICERS RUSSEL TIMOSHENKO AND HERMAN YAN POLICE OFFICERS OF THE YEAR



"Two years ago this month, Police Officers Russel Timoshenko and Herman Yan displayed unwavering resolve in the face of utmost danger. The sacrifice Officer Timoshenko made will always be in our minds, and his memory will always be in our hearts. I would like to thank Governor Paterson for recognizing the dedication, courage and sacrifice of these two heroic members of New York's Finest."