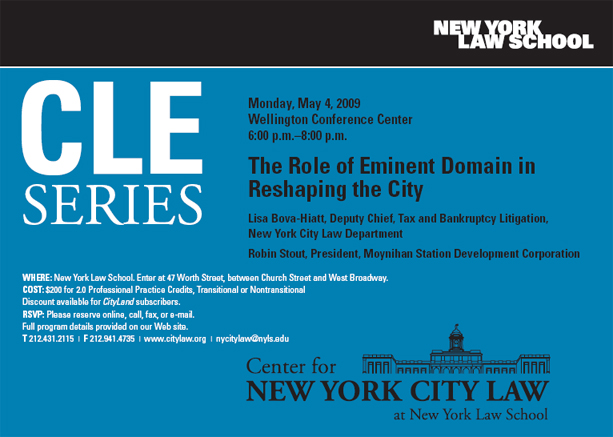 Join us as we present:
"The Role of Eminent Domain in Reshaping the City"
Speakers: Lisa Bova-Hiatt, Deputy Chief, Tax & Bankruptcy Litigation Division, NYC Law Department, and Robin Stout, President, Moynihan Station Development Corporation
Monday, May 4, 2009 from 6:00 p.m. to 8:00 p.m.
Click here to see the schedule
Register for this program today
2 Professional Practice Transitional and Nontransitional credits
$200 registration fee for single program registration, $150 for CityLand subscribers

Seats for credit will only be held after receiving full payment. Checks should be made payable to the Center for New York City Law. Registrations by Visa or MasterCard should be made over the phone at 212-431-2383. Please note that we do not accept American Express.


Should you require financial aid to attend this program, please go here to see if you qualify.
Should you require special accommodations, please contact Kristin Daggan at 212.431.2383.
New York Law School has been certified by the New York State Board of Continuing Legal Education as an Accredited Provider of Continuing Legal Education in the State of New York. This program is approved for newly admitted and experienced attorneys.
CLE inquiries for this program may be addressed to: Kristin Daggan at the Center for New York City Law at kdaggan@nyls.edu .