Here's the text of an e-mail we received earlier today from the New York State Democratic Senate Campaign Committee :

While Senate Democrats
Reform Committee Process,
GOP Senator Puts Foot in Mouth




Senate Democrats called out Republican Western New York Senator Michael Ranzenhofer for making the absurd argument against the recent hiring of a Senate committee counsel because, as reported by a WIVB television reporter, "nothing is done in the committees anyway."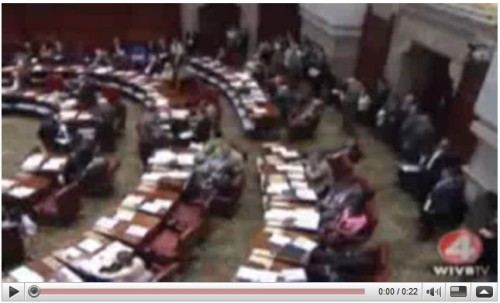 Click here or the image above to play video


"To hire people to supervise doing nothing is just ridiculous," Senator Ranzenhofer says in the clip.


"What's ridiculous, actually, is Senator Ranzenhofer's resignation and ignorance about his own body's committee process," said Shams Tarek, spokesman for the Democratic Senate Campaign Committee. "Perhaps if he was more engaged in the legislative process, he'd know better. But like most of his colleagues in the Senate Republican conference, all Senator Ranzenhofer has done this year is sit back with arms folded and refuse to act. Unfortunately it's not just in Washington that the Republicans are the Party of No; this problem is apparently plaguing Albany, too."


Senator Ranzenhofer's remarks are not just absurd in their ignorance, but are also strange in their argument that the Senate committee system does not work, considering the system is one built by his own Republican colleagues during their recent 43 years of Senate control.


That said, Senate Democrats have either imposed or proposed a number of long-needed reforms to improve the Senate committee process, including allowing any Senator to sponsor any bill they choose, requiring committee members to be present to vote, encouraging debate in committees, encouraging more public hearings by committees and making said hearings accessible via the Internet.


Senator Ranzenhofer is also quite hypocritical for complaining about a Democratic hire for $90,000 per year when that individual is replacing three Republican staffers making a combined $200,000.


Austin Shafran, spokesman for Senate Majority Leader Malcolm A. Smith, didn't mince words in his response to Senator Ranzenhofer's hypocrisy. As quoted in the Buffalo News , he said: "The senator wouldn't know what a well-qualified staffer looked like if he was locked in a room with one."