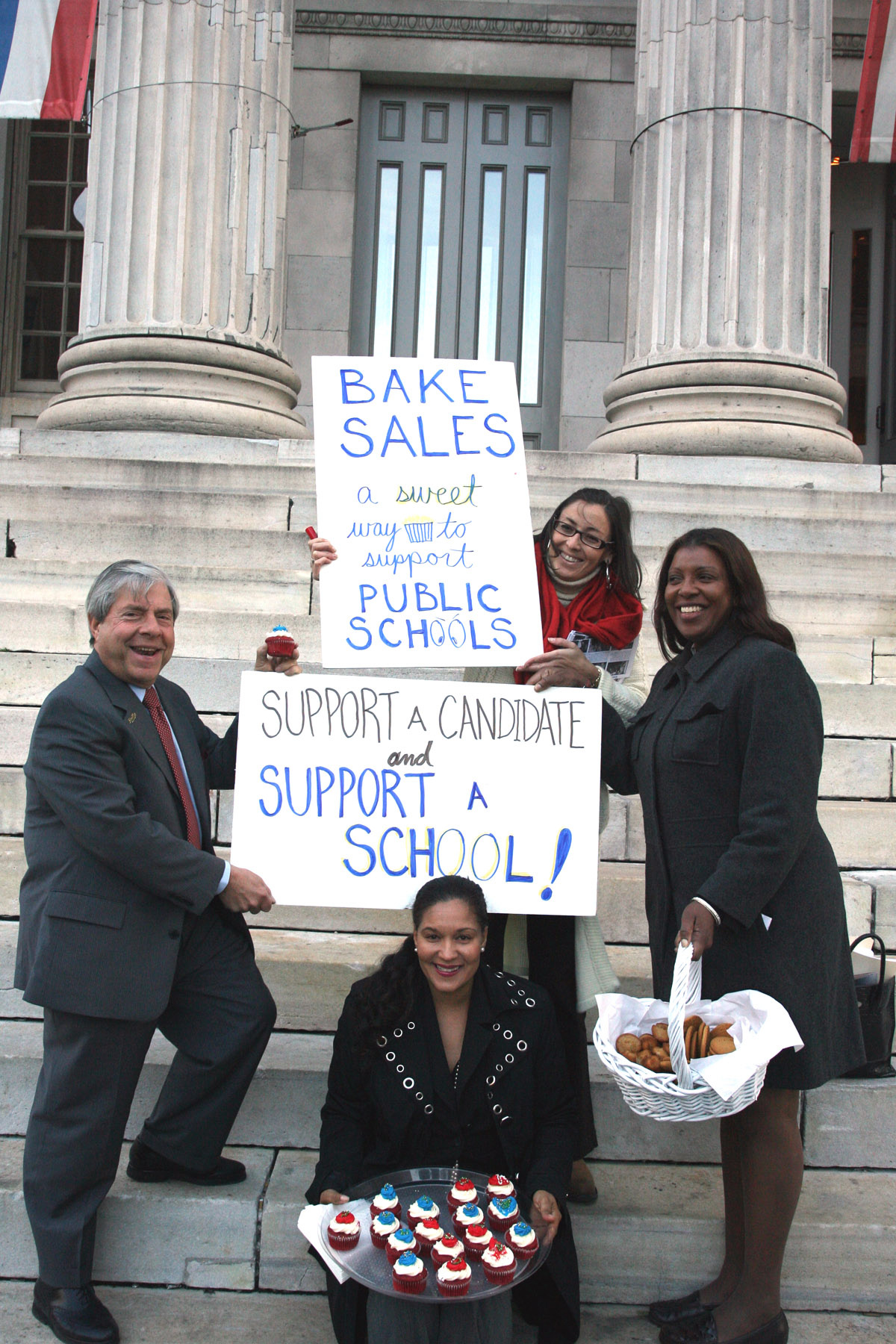 Yesterday, Assemblyman Joseph Lentol, Brooklyn Borough President Marty Markowitz, Council Members David Yassky and Letitia James joined forces to call on parents, students and staff at schools set up as polling places on Election Day to organize bake sales.
Here's the text of a press release which is being circulated by Council Member James's office:
FOR IMMEDIATE RELEASE
October 30, 2008
COUNCIL MEMBER LETITIA JAMES, BOROUGH PRESIDENT MARTY MARKOWITZ, ASSEMBLYMAN JOSEPH LENTOL, OTHER PUBLIC OFFICIALS, PARENTS, TEACHERS, STUDENTS, AND MANY MEMBERS OF THE EDUCATIONAL COMMUNITY GATHER TODAY TO SUPPORT PUBLIC SCHOOL BAKE SALE FUNDRAISERS AT POLL SITES NEXT TUESDAY
(Brooklyn, NY) - On Tuesday, November 4th, an election of historic proportions will take place in our country. Record turnouts are anticipated. Public Schools used as Poll Sites have the opportunity to take advantage of Election Day foot traffic by organizing bake sales; these PTA fundraisers will also be of historic proportions.
New York City Public Schools want to remind the community about the impact of contributions to Bake Sale Fundraisers on General Election Day, and how important these donations are to the success of our children's futures. Some goals of Public Schools, which funding is needed for are: more field trips; books for libraries; science labs; and arts programs. We encourage voters and bake sale participants to act generously on Nov. 4th, because their contributions are an investment in all of our futures.
Today's press conference on the Plaza Steps of Brooklyn Borough Hall is being held to help our local schools promote their Election Day Bake Sales. Let's all do our part to take advantage of this historic election year by voting and buying baked goods; let's make sure our children benefit in every way through this process.
Brooklyn Borough President Marty Markowitz said: "America is hungry for a new President - and when schools have bake sales on Election Day, we voters have a great opportunity not only to choose our future leadership, but support education and school activities as well. As you may know, three of my favorite things are voting, education and baked goods--and if Brooklyn schools, parents and kids get together and organize bake sales for education, we'll all be saying with a smile, Election Day in Brooklyn--How Sweet It Is!"
Assemblyman Joseph Lentol, 50th District said: "In the best of economic times I believe that our schools can never have enough money when it comes to educating our children. So in these tough fiscal times, I think this is a marvelous opportunity for schools to earn a little extra that might mean a few more textbooks, a field trip, or anything else that needs a little extra support. We are expecting unprecedented voter turn out in this year's election; if every voter buys a brownie, it could really make difference."
Council Member David Yassky, 33rd District said: "These bake sales send a message to New Yorkers as they go to the polls--civic responsibility doesn't end with voting. We're all a part of this city, and each of us has a role to play in making it better. If it's a down year for the City budget, then I suggest we all come together to ease the burden for our children, and our schools."
Council Member Letitia James, 35th District said: "Communities are rarely given such an easy and delicious way to support their local schools. When you go to your local school Poll Site this upcoming Tuesday, please remember to go hungry and bring money! The more you spend at your school's bake sale, the more you contribute to growing libraries, going on field trips, promoting the arts, along with other special programs. And, we all know a well rounded adult, is the result of a well rounded education."
# # #