The Wall Street Alphas Charitable Foundation (WSAC) is having a fundraiser on November 19, 2008, at 6:30 PM, at Steiner Studios (15 Washington Avenue, Brooklyn, New York).

The event, entitled "THINK BLACK!," seeks to raise funds for WSAC 's programs designed to support and address "the plight of young African-American men in the New York City area."

The ticket price of $200 includes dinner, hors d'oeuvres, cocktails, live music performances, and the ability to participate in a silent auction. To purchase your ticket online, use this link: BUY TICKET

A copy of the event invite follows: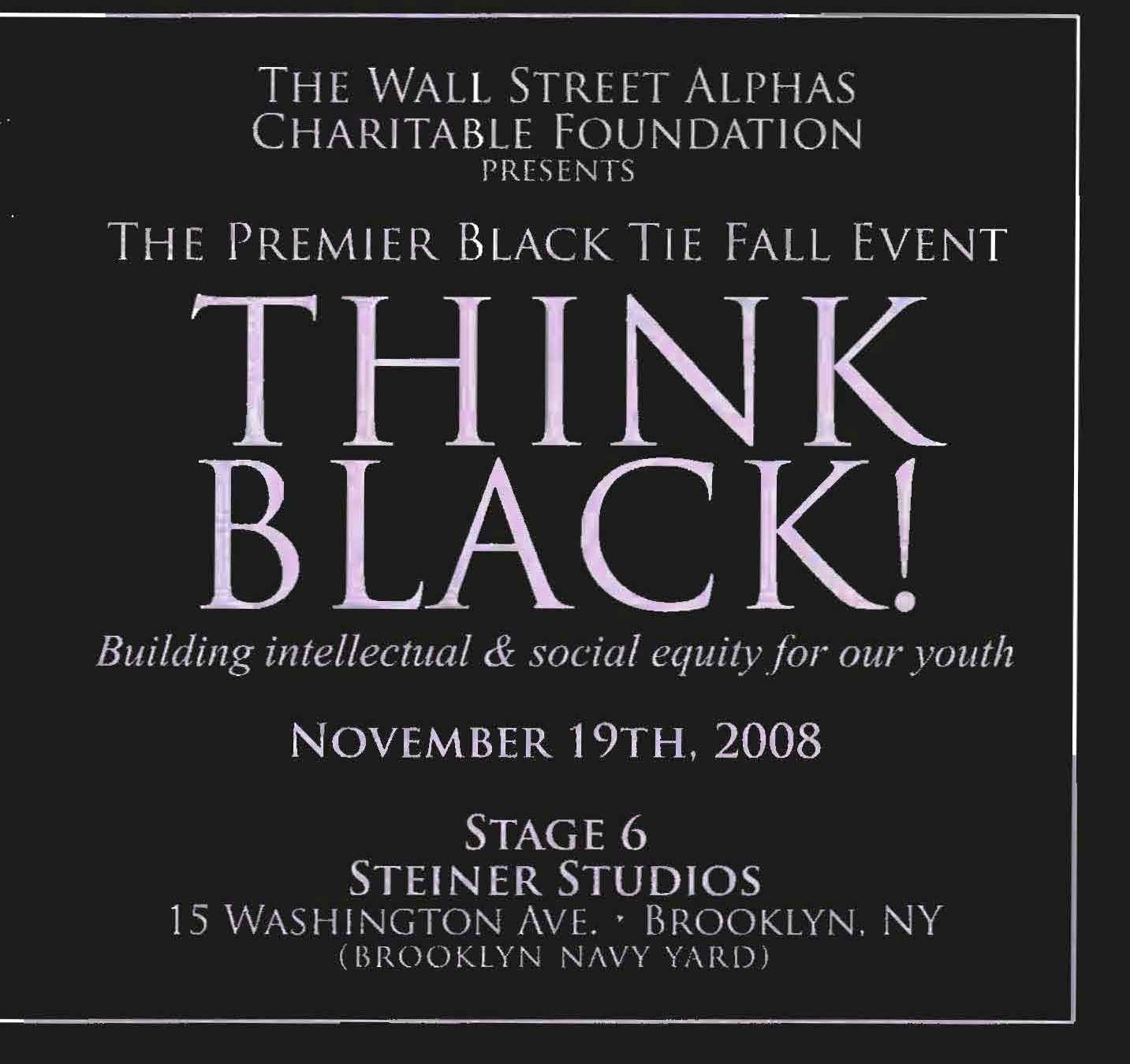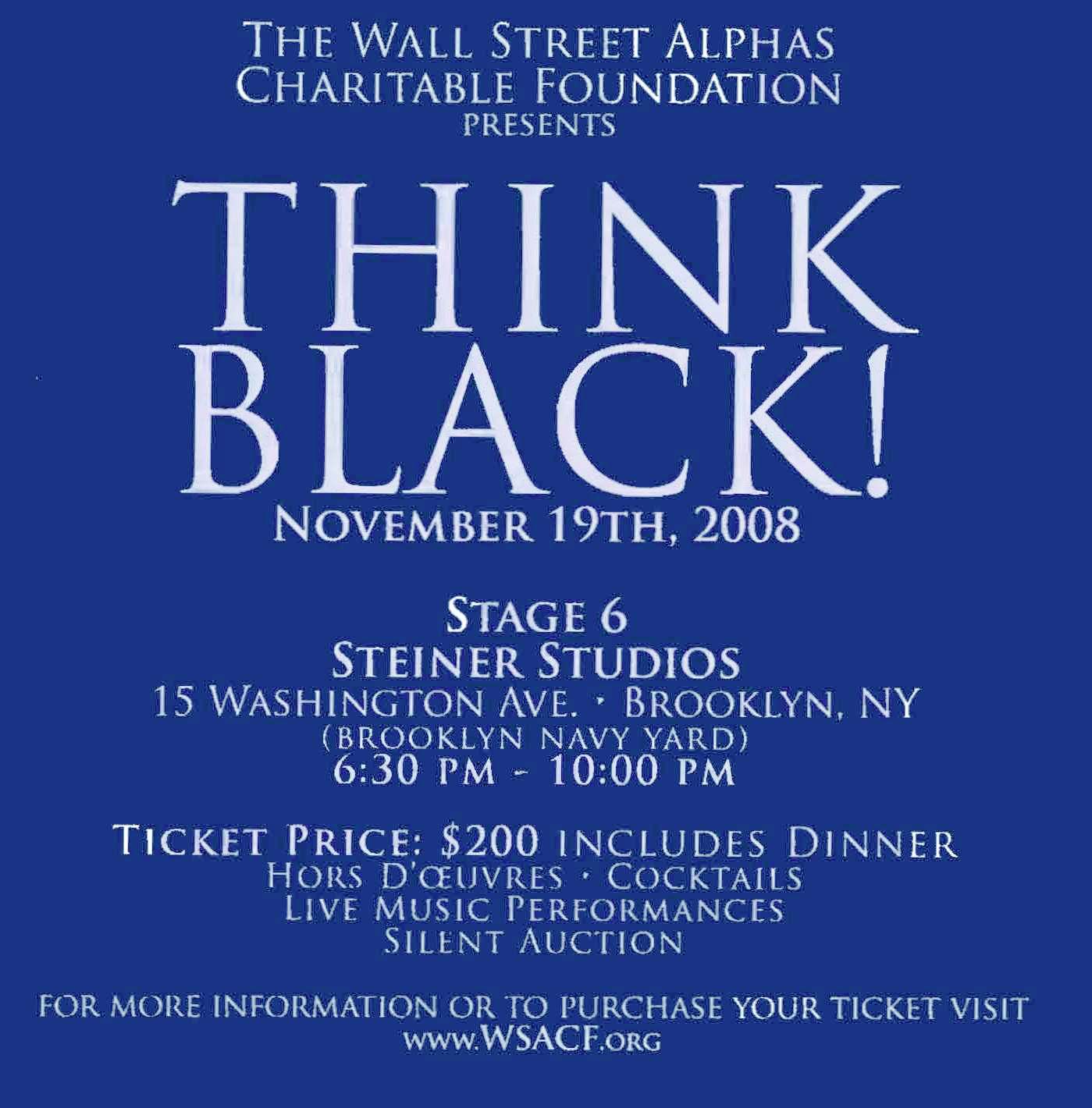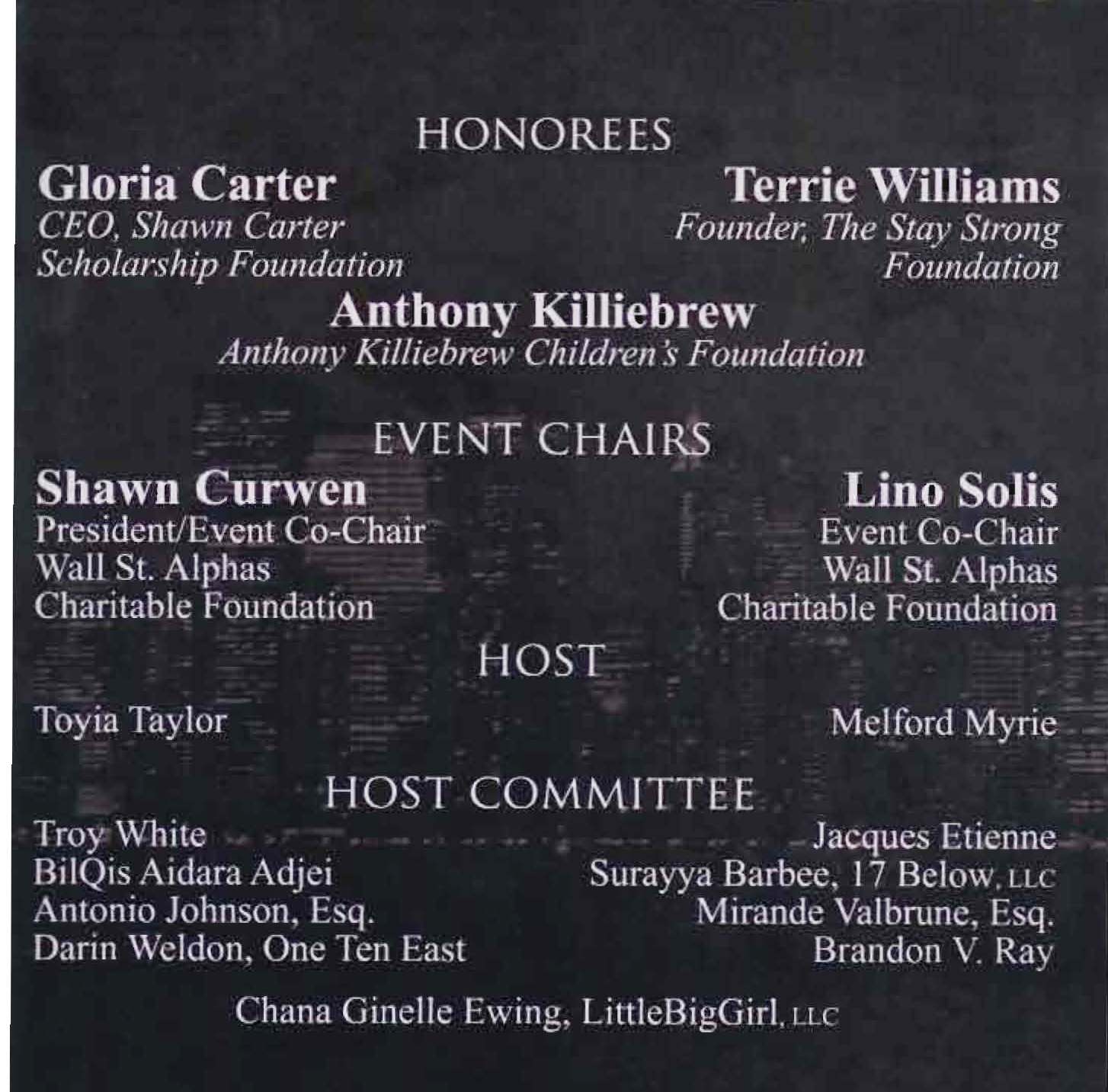 Event Honorees
Gloria Carter
CEO of the Shawn Carter Scholarship Fund
Mrs. Gloria Carter is the proud daughter of Hattie White who is the inspiration for her life's work in reaching out to people, which eventually led to her interest in community service. Mrs. Carter retired from the Office of the Comptroller, City of New York: bureau of Asset Management where she worked for thirty years. She began as a stock clerk where through hard work and determination she worked her way up to an investment analyst position. She was also responsible for training young interns in the field of asset management. As of today, she still mentors some of those same young interns.
Mrs. Carter is currently the CEO of the Shawn Carter Scholarship Fund. The Foundation was established by her and her son Shawn Carter after her retirement. The Foundation was essentially formed because Mrs. Carter wanted to create something that would enhance the future of our young people. The Shawn Carter Scholarship Fund is unique in that it offers scholarships to single mothers, children who attend alternative schools, students who have earned a GED, students with grade point averages of 2.0 and students who have previously been incarcerated, but desire a higher educational opportunity. This group is generally not the recipient of college scholarships and is typically ignored by the Board of Education. The Shawn Carter Scholarship Fund offers scholarship opportunities to any under-privileged child around the world who desires a higher education. One of the key questions asked by the Foundation when students apply for a scholarship is: "What are your plans to give back to the community?"
Mrs. Carter has also organized and sponsored the Christmas Toy Give-Away for: -Marcy Children Day Care Center -The Marcy Children -Antioch Baptist Church -LGBT Service Center
In 2007, the New York City Council's office commended Mrs. Gloria Carter for her work in serving as CEO of the Foundation and its tireless work with the youth and her continued work with various toy drives, her post Hurricane Katrina efforts in New Orleans and Houston and her work with various other community based organizations.
In 2005, the Township of West Orange congratulated Mrs. Carter for her community work within the Township of West Orange and for establishing the annual toy drive and for providing additional scholarships to students who agree to work and give back to West Orange Community.
Gloria Carter is the proud mother of Michele, Eric, Andrea and Shawn Carter and is the proud grandmother of Lavelle, Colleek, Ramel, Jarrell, Teanna, Airess, Naeseah, Eric, Jr. and proud great grandmother of Jaziah.
Terrie Williams
Founder and President, The Stay Strong Foundation
Terrie is a social worker by training who became a successful public relations pro by her own design, inscribed her prominence as an author of the successful business and inspirational story, and has now emerged as an advocate for youth and those who battle depression.
The multi-chaptered story of Terrie Williams is one of phenomenal success and encouragement. She launched The Terrie Williams Agency in 1988-a company that would become one of the country's most successful public relations and communications firms-and through the years has handled the biggest names in entertainment, sports, business, and politics from Miles Davis, Eddie Murphy and Johnnie L. Cochran to Essence Communications Partners, HBO and Time Warner.
Terrie is the author of three successful books: the business bestseller The Personal Touch: What You Really Need to Succeed in Today's Fast-Paced Business World; the inspirational A Plentiful Harvest: Creating Balance and Harmony through the Seven Living Virtues; and Stay Strong: Simple Life Lessons for Teens, the basis for the 2001 launch of The Stay Strong Foundation, a national non-profit designed to educate and encourage American youth.
Terrie's fourth life-transforming book entitled Black Pain: It Just Looks Like We're Not Hurting, is published by Scribner and is in stores now. It tells the untold story of depression among African-Americans as well as Terrie's tale of her own chronic and crippling depression-a revealing narrative she shared in the June 2005 issue of ESSENCE magazine. Terrie also recently appeared in the critically acclaimed PBS documentary entitled, "Depression: Out of the Shadows."
As guest host for "The Down & Up Show" on Depressionisreal.org podcast, Terrie has interviewed guests such as Andrew Solomon, author of Noonday Demon; former New Jersey First Lady and depression survivor Mary Jo Codey; Jerry Reed, executive director of the SPAN-USA-the Suicide Prevention Action Network; and Dr. Yoasif Rofa, an Iraqi psychiatrist treating depression in his homeland.
Today Terrie works tirelessly to reach out to individuals who have suffered or are now suffering-from the struggling high school student, to the successful executive who puts forth the daily "mask", to the former gang member, the incarcerated and those who served time but were later proven innocent. She is a woman on fire, a woman on a mission to help others enter (and re-enter) society as productive and contributing members of their community.
Terrie's accomplishments have been chronicled in numerous publications as Adweek, Jet Magazine, The Boston Globe, New York Daily News, Washington Post, and Crain's New York Business. She is a highly sought-after speaker and has shared her unique talent with many Fortune 500 companies and diverse organizations, from New York University to the National Hockey League. She and her Agency have been featured as case studies in public relations seminars, college texts, industry newsletters, and novels. Her drive to "save the world" leads her and the efforts of The Stay Strong Foundation to urge corporate and individual responsibility, and to offer educational and leadership workshops, internships, and mentoring opportunities for youth.
Terrie's honors include The Institute for the Advancement of Multicultural & Minority Medicine's 2006 Eagle Fly Free Award for her work as a depression survivor and her efforts to bring widespread attention to the topic. She has also received The New York Women in Communications Matrix Award in Public Relations-the first woman of color to receive this award in the award's 70-year history, the PRSA New York Chapter's Phillip Dorf Mentoring Award, and The Citizen's Committee for New York Marietta Tree Award for Public Service. In 1996 she was the first person of color honored with the Vernon C. Schranz Distinguished Lectureship at Ball State University, and in 1998 she donated her papers to the Howard University Moorland-Springarn Research Center Archives. Terrie has a B. A. (cum laude) in Psychology and Sociology from Brandeis University, and an M.S. in Social Work from Columbia University.
Anthony Killiebrew
Founder, Anthony Killiebrew Children's Foundation
Anthony Killiebrew: a World Class runner in the 800 meters and founder of The Anthony Killiebrew Children's Foundation Inc (AKCF). Anthony Killiebrew is a 23 year old pro track runner who spent most of this past summer training for the 2008 US Olympic Team. At the age of 17, Anthony noticed that the youth in his community were failing out of school and were in a general downward educational spiral. As a result, Anthony founded the Anthony Killiebrew Children Foundation also known as AKCF. AKCF's mission is to encourage youth to take positive educational risks and to be creative in their own personal success. The foundation seeks to train, equip, and motivate the children to be more effective in their daily lives. AKCF provides children an opportunity to express themselves through sports, education and other community based events. The children are empowered to make wise and healthy decisions and they are given the freedom to communicate openly and honestly with each other and the staff at AKCF. This positive environment motivates the children to never give up and provides them with a surrounding that is fun, loving and encourages dignity, respect for self and respect for others.
This year, AKCF had its 5th Annual Back to School Family Cookout where more than 2,000 children and parents attended the event. Local and national businesses helped sponsor the event and donated school supplies and their time. Any surplus school supplies where packaged and sent to partner schools in West Africa. At the same time, Anthony has been working with various celebrities and pushing the "Respect My Vote" campaign. The campaign seeks to pair celebrities with grass roots organizations to mobilize and educate young people between the ages of 18 and 29, who are not in college, to register and participate in the electoral process. The campaign has so far sparked record voter registration activities in the following states: CA (Bay Area), FL (Miami), GA (Atlanta), IN (Indianapolis), MD (Baltimore), MI (Detroit), MO (St. Louis); NC (Charlotte, Raleigh-Durham), OH (Cincinnati, Cleveland, Columbus), PA (Philadelphia), TX (Dallas-Ft. Worth, Houston), VA (Richmond), and DC (Washington, DC).
Awards:
(2008) Awarded A day in Brooklyn for many years to come (July 23) called "Anthony Killiebrew Celebration Day" from Brooklyn Borough President Marty Markowitz.
(2008)Proclamation from the Brooklyn Borough President Marty Markowitz.
(2008)Citation from State Assemblyman Alec Brook-Krasny
(2007) Proclamation from City Councilman Domenic Recchia
(2006) At the Kaiser Park Track & Field Opening Ceremony on March 22, Thanks to a generous allocation of $3.2 million from Council Member Domenic Recchia, parks has created a state of art facility featuring a 400-meter mondo-surface track with synthetic turf infield for soccer and football, new equipment for track and field events, and regraded baseball fields with backstops and bleachers. But even though the park was named after Dr.Leon S. Kasier(1884-1941), the new track & field was named after Coney Island's own Anthony H. Killiebrew.
Elisabeth Withers
Performer • Vocalist
It all starts with the voice. A soulful instrument that is both powerful yet strikingly vulnerable; an engaging gift that transcends musical genres and industry trends. For acclaimed singer/performer Elisabeth Withers, that voice and a fierce spirit garnered her a prestigious Tony Award nomination for her role as the seductive scene-stealer Shug Avery in the Broadway mega-hit The Color Purple. Now the Joliet, Illinois-born singer/songwriter is set to release her debut solo album It Can Happen To Anyone on the legendary Blue Note Records.
"My music is a reflection of my life," says a matter-of-fact Elisabeth. "Through my work, I want people to know that with a strong self-love, work ethic and fearlessness, anything is possible." Indeed, It Can Happen To Anyone makes its case for the Berklee School of Music and NYU graduate. It is uplifting and honest but it is also sensuous and passionate and at times seriously sexy, unpredictable and just plain infectious.
Fans of Elisabeth Withers' Broadway work will be taken aback by the impressive range of her album, which mines everything from R&B, gospel and pop to old school cabaret and rock. Not surprising when you consider Elisabeth loves both Millie Jackson and Sheryl Crow.
The title track finds Elisabeth warning the object of her affection over a funked-up groove with such bold proclamations as, "When you are born until ya grow old, somewhere it's blowing in the wind. Love don't care because it comes on, it's own time!" The church inflected track "Simple Things," showcases Elisabeth's deep timbre vocals as she encourages listeners to see the beauty in everyday life. "The World Ain't Ready" showcases its message of female empowerment over an infectious reggae dancehall rhythm. And on the warm love letter feel of "Heartstrings," she coos of a love that makes you "want to scream like Tina," and "shine like the brightest star."
At first glance, music seemed like an unlikely path for a young and confident Elisabeth. Raised in a middle class, Midwest household, where her mother excelled as a mathematical engineer and her father was a political powerbroker, an interest in anything remotely resembling the arts might have raised eyebrows. Luckily Withers, her sister and two brothers were supported by parents who created a loving environment where individuality was as much a premium as a discipline. At five-years-old, Elisabeth began singing along to her parents' record collection.
"All of my brothers, including my dad, would laugh at me," she muses. "Just picture a little me belting out some Natalie Cole or Gladys Knight over dinner, veins popping out of my neck, trying to reach all of these notes" it was too funny. But I remember my mom would get angry and say, "You guys will not laugh at your sister. She's going to sing!"
Elisabeth saw the meaning of sacrifice first hand as mom placed her professional life on hold to raise the kids while her father worked extra hard to make sure all four kids had everything they needed to excel. By her early teens, performing at talent shows and social engagements had become the norm. The gifted singer saw her exceptional talents garner notice when, in 1993, she received a scholarship to attend the prestigious Berklee College of Music in Boston. Four years later, Elisabeth did what virtually every aspiring singer-songwriter has done since the dawn of the jazz age: She set out to conquer New York. By the time she graduated NYU in 2000, Withers had caught the attention of respected producer, arranger and songwriter Tony Moran (Patti Labelle, Whitney Houston, Luther Vandross).
A string of studio back-up sessions followed as Elisabeth began to cultivate a reputation as a first-rate vocalist; so much so that Moran recruited her to co-write the dance club classic "Rising" (2002), a track that reached the top 5 on the Billboard charts. Elisabeth Withers was now going under the diva alias Elle Patrice. Another hit single followed "Emotions", and in 2005 Elisabeth received a call from industry friend and music legend Nick Ashford, who suggested the vocalist audition for the Oprah Winfrey-produced stage adaptation of The Color Purple. She was more than up for the challenge as she won over producers Quincy Jones and Winfrey. Elisabeth's triumphant run on Broadway soon attracted the interest of record labels. With its rich musical heritage and underlining focus on the art, Blue Note was the perfect home.
"I've never been afraid to try anything. I guess that's why I've had a chance to try so many different things," Elisabeth says of her budding career. "The values that my parents taught me growing up allowed me to go into any situation, from being asked to sing for Paul McCartney to doing "The Color Purple" on Broadway in front of someone as iconic as Oprah and to recording an album for Blue Note, having an album of songs that I actually had the chance to write. It's been a wild ride and a humbling experience."
"I hope people will listen to the songs on the album and come away with the feeling that I have, which is why I called the album It Can Happen To Anyone. For that is truly what I believe."
Kena Sage
Songwriter • Vocalist
When she enters the room with her enclitic Hip-Hop vibe you cant help but feel like something magical is about to happen; the music starts to play; then filled with creative energy her head begins to move to the beat and outcomes poetry filling the track with inspiring lyrics and mesmerizing melodies. But if you were to ask Kena Sage how she explains her poetic style she simply states I am inspired by the music, the melody moves me and tells me what to write.
This Chicago born artist entered into the music industry by being a member of the group Phajja. She has toured with many hit recording artists such as: Brian McKnight, Eric Benet, Musique Soul Child and Usher. Kena has developed a reputation as a great performer and choreographer. At the same time she has maintained her passion as a songwriter, working with great artists such as Truth Hurts, Mario Winans, Montell Jordan, Devine Evans and (Mizchief).
When asked how this songstress stumbled upon the name of her new CD, she replies When I began my project I hooked up with my boy TL Cross from the Gutta Fam., We were just vibing and I had this song that I sang to myself For inspiration; I knew my prayers had been answered; with his music and my words. Play Ground for the Soul was born. Her freestyle way of writing has no emotional limits. You will find yourself deeply connected with songs like, Dum Da Da and I Cry. You will then be thrown into a fun flirty vibe with titled songs Baby and Hella Sexy. This songstress soft, saucy seductive sound has managed to capture many facets of the music spectrum. As her song My Thang states, All that jazz, hip-hop, rock, soul, pop, R&B, no matter what the flavor the music is what I savor and each one of them live inside me. Just listen to this fantastic album and you will be convinced that Kena Sage is the next rising star.
Eric Turner
Actor • Vocalist • Model
Eric B Turner is an Actor, Singer, Song Writer and Model (Steve Harvey suit collection). Born and raised in Cleveland, Ohio, he received a full scholarship to attend the University of Akron, (Ohio) majoring in Vocal Performance at age 16. From the University of Akron Eric received: B.A. in Vocal Performance/ M.A. in Music Theatre Performance/ M.Ed. in Higher Education Administration and is currently in dissertation status for his Ph.D. in Family Counseling.
Eric has been seen in Off-Broadway productions such as "The Marriage of Figaro", "Tosca", "The Crucible", "Aint Misbehavin", and "Lil Shop of Horrors". TV credits include NBC's Law and Order, 30 Rock, BETJ's "My 2 Cents", and several commercials. Film credits include "American Gangsters", "Synecdoche-NY", and Indie Film "The Pack". Eric has recorded and performed with artists Anthony Hamilton, Mariah Carey, Regina Bell, Jahiem, Joe, John P. Kee, Karen Clark-Sheard, Marvin Sapp and others.
Mo Beasley
Author • Workshop Facilitator
Mo Beasley is a heavily sought after and nationally recognized workshop facilitator and speaker in the fields of race, and arts advocacy with over 20 years of experience. New York University, Children's Aid Society, Penn State, The Schomburg Center for Research in Black Culture, Howard University, Planned Parenthood, SCO/Family Dynamics, and Kaiser-Permanente are just a few of Mo's clients. Mo's presentations range from cutting-edge perspectives on sex, sexuality, art as action, to fatherhood, hip hop as a tool for education, and re-defining manhood for the 21st Century.
For his work, Mo has been interviewed in the national and local New York media by Rev. Al Sharpton, Chuck D, on BETJ, XM Radio, Air America Radio, NY1 News, Fox 5, KISS FM Radio, and Hot 97 Radio. The Daily News selected Mo as one of "50 Unsung New York Heroes." He has been quoted, profiled, or featured in New York Newsday, Amsterdam News, rolling out UrbanStyle Weekly, Caribbean Life, crème magazine, Our Time Press, and more.
His professional training as an educator, performance poet, and actor distinguishes Mo from his colleagues. Every classroom is a stage and every stage is a classroom dedicated to collective and personal growth and healing.
Mo Beasley holds a Bachelor of Fine Arts in Theatre Arts/Acting from Howard University. He currently resides in Brooklyn, New York.
Kwame Jackson
Founder of Krimson by Kwame
Click on the link to view press releases featuring Kwame Jackson: http://kwamejackson.com/Press
Kwame Jackson has honed an entrepreneurial streak since elementary school when he became the informal candy supplier to the kids on his school bus. From the school bus he has gone on to successes in the business world that include a Harvard MBA, sales and marketing positions with Procter & Gamble and his role as a Private Client investment advisor at Goldman Sachs. Today Kwame's serious business background combines with the energy, intelligence and charisma that he displayed on 15 episodes of The Apprentice Season One to make him a well-known public figure, entrepreneur, and sought after speaker. He has hosted a national Public Broadcasting Service (PBS) special on Youth Finance, delivered more than 250 business lectures at such premier institutions as General Electric, American Express, the London School of Economics and the Democratic National Convention. He has appeared in dozens of television, radio and newspaper interviews and has been the national spokesperson for American Airlines, the world's largest airline. Kwame's company, Legacy Holdings LLC, is a private investment firm involved in real estate development; media brand management via Kwame Inc., his professional lecture series arm, and fashion via the launch of his luxury lifestyle brand and department store executive neckwear collection, Krimson. Articulate, urbane and polished, Kwame has received the National Entrepreneur's Award from the United States Small Business Administration, Keys to the City from Detroit, Charlotte, Trenton, and Columbia and has been named to both People Magazine's 50 Most Beautiful People and 50 Hottest Bachelors lists.
As for the future, in December of 2008, Lebron James, Carly Fiorina, the Dean of Harvard Law School, Donald Trump, the CEO of McDonald's, Bob Johnson, and others will have their wisdom distilled in the release of Stay Hungry! - Kwame's first book compiling a series of first hand personal interviews with 21 global icons and personal mentors sharing their secrets to success.