John J. Reddy, Jr., candidate for New York County Surrogate, is having a fundraiser on Monday, June 30, 2008.
It's being billed as an opportunity to discuss with candidate Reddy how the Surrogate's Court can be improved.
While no suggested minimum contribution is listed, the announcement notes that individuals may contribute a maximum of $35,000.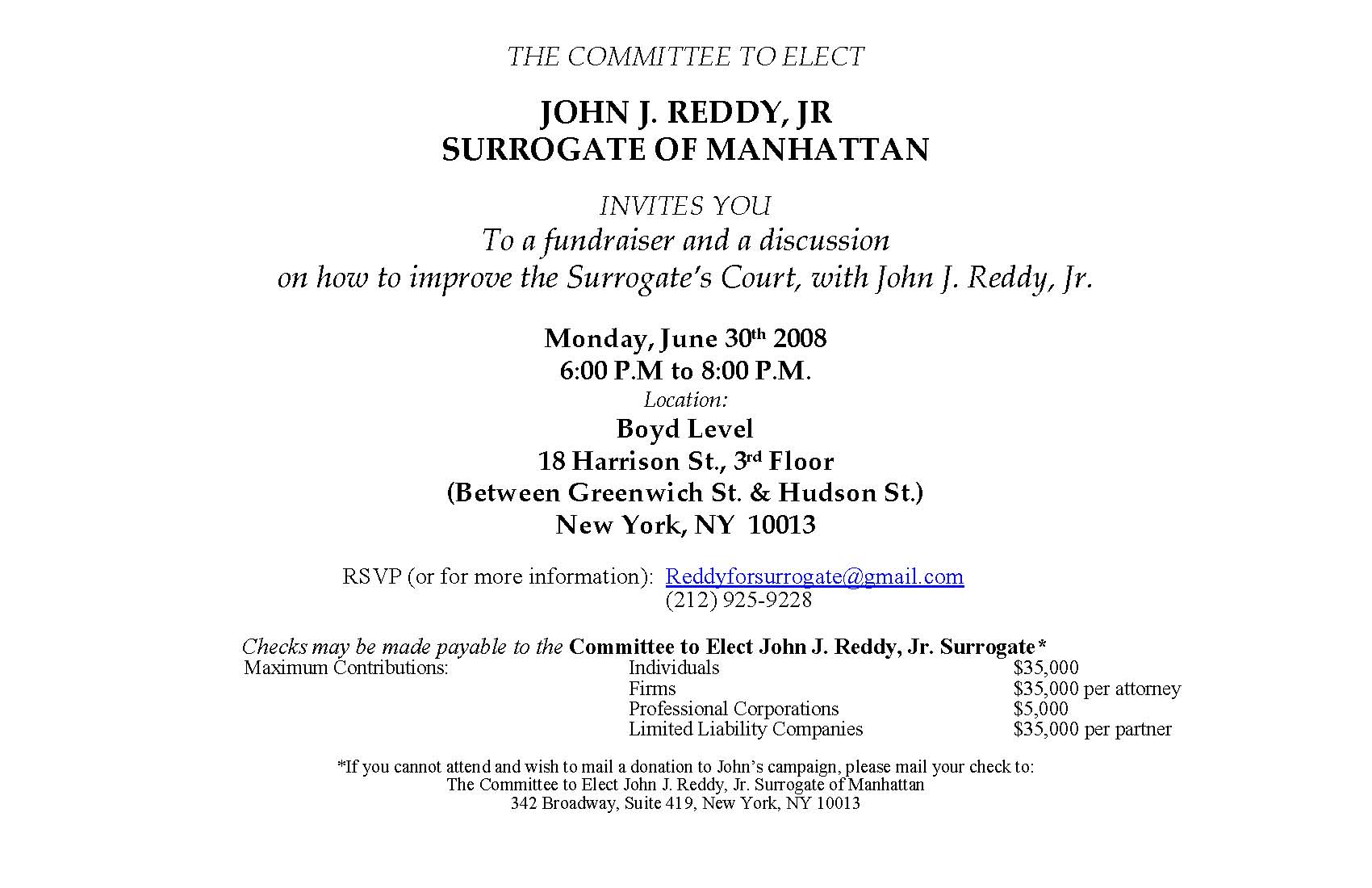 A biographical statement accompanying the invite reads as follows:
ABOUT JOHN J. REDDY, Jr.

As many of you have already heard, John J. Reddy, Jr. is seeking the Democratic Party's nomination for Surrogate of New York County.

John has been associated with the Counsel to the Public Administrator of the County of New York for 29 years and has been the Counsel to the Public Administrator for the last 13 years. Through his important work for the Public Administrator's office, he has been exposed to nearly every subject that can arise in Surrogate's Court practice, from the mundane to the unusual, and has helped innumerable attorneys successfully navigate their cases through the Surrogate's Court.

John is an adjunct professor at New York Law School, where he teaches Estate Administration and is both a member of the Board of Trustees and President of the law school's Alumni Association. He has also co-authored a number of scholarly articles that have appeared in Probate & Property and the New York Law Journal.

He has taught and lectured on the subject of estate law for countless bar associations and community organizations, serves on the Surrogate's Court Advisory Committee to the Chief Administrative Judge of the Courts of the State of New York and has designed programs utilized by the ABA and various minority bar organizations to prepare attorneys for carreers in Trusts and Estates law. In short, no one knows the Surrogate's Court better than John.