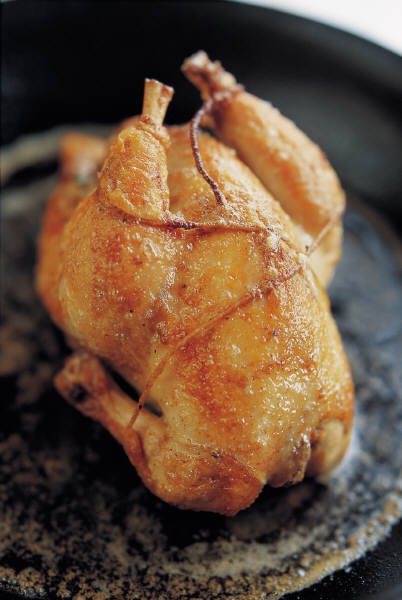 We get announcements for a slew of events, but an upcoming function, promoted by Columbia University's School of International and Public Affairs (SIPA) , struck us as unusual.
While we are mindful of the very real possibility of a "large-scale health crisis" hitting New York, is a dinner gathering the most opportune time to have that kind of discussion?
Apparently, SIPA thinks so.
On March 5, 2008, the school 's alumni are meeting at a Manhattan Theatre District restaurant and, during the course of the evening, participants will be "treated" to a "Dinner and Simulation Exercise."
While the "simulation's" particulars have not been disclosed, our imaginations are running wild with the range of grotesque possibilities!
Here's a copy of the announcement we received from a reader:
From: SIPA Alumni Relations <sipaalum@columbia.edu>
Dear NYC SIPA Alumni,

The SIPA ISP Alumni network invites you to a Dinner and Simulation Exercise with Nicholas Cagliuso, Coordinator, Emergency Preparedness, New York-Presbyterian Healthcare System.

Mr. Cagliuso will be discussing Preparing for Pandemic Influenza in New York City.

Date: Wednesday, March 5, 2008

Time: 7:00 to 9:30 p.m.

Location: Restaurant Trattoria Dopo Teatro 125 West 44th Street (between 6th Ave. and Broadway)

RSVP: Send an e-mail with "ISP Dinner" title line to Sharon Roling at email: ser2005@columbia.edu by Friday, 28 February. Seating is limited, so please register early. The cost of the dinner is $35 for SIPA Alumni and $50 for non-SIPA (including tax & gratuity), prix fixe per person. Drinks not included. Please bring cash for payment.

Preparing for Pandemic Influenza in New York City:

What is the city doing to prepare for the event of an urgent large-scale health crisis and how might the city's response unfold? How can you be prepared? Please join us for our first-ever Dinner Simulation Exercise, beginning with an overview from Dr. Nicholas Cagliuso on the challenges New York City faces in emergency preparedness, followed by a simulation exercise over dinner. The exercise is a role-playing game designed to allow to experience the process of developing an emergency preparedness plan on what to do in the event of an Influenza pandemic in New York City. It promises to be a low-stress, interactive activity, where you will have the unique opportunity to explore emotional, logistical and intellectual responses to disaster planning.

About the ISP Alumni Network: The first-ever network for SIPA's International Security Policy (ISP) Alumni in the NYC area is in its fourth year of activity. The network offers ISP alumni a forum to engage on foreign policy and international security issues, and an opportunity to meet and expand their network of fellow alumni in the city. For more information, email Sharon Roling at ser2005@columbia.edu.

Best wishes,

SIPA's Office of Alumni Relations
Who the heck wants to explore "emotional, logistical and intellectual responses to disaster planning" over rubber chicken and overcooked pasta?

(For some reason, we're thinking the beer ain't the only thing that's going to be foaming on March 5th.)