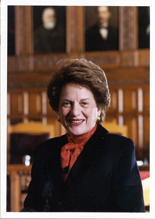 Judith S. Kaye , as Chief Judge of the State of New York, has filed a lawsuit against Sheldon Silver and The New York State Assembly , Joseph L. Bruno and the New York State Senate , Governor David Paterson , and the entire State of New York , alleging that the executive and legislative branches of our government have violated the New York State Constitution's "Judicial Compensation Clause" by failing to provide the Judiciary with adequate compensation.
According to Judge Kaye's complaint (dated today, April 10, 2008), Judges haven't received a pay increase in about a decade (January 1999), while other public employees have earned raises of about 24 percent over that same time period. That, according to the complaint, has had a "disciminatory impact on the Judiciary, which cannot defend itself."
We understand the case was filed in New York County (based on Judge Kaye's residence address) and has been assigned to Supreme Court Justice Justice Edward H. Lehner.
To download a copy of the Summons and Complaint, together with a Memorandum of Law In Support of Plaintiff's Application for a Prompt Trial, please use this link: Kaye v. Silver