Who wouldn't love to own a Ferrari?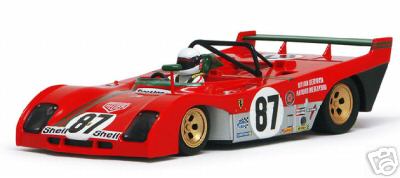 Fiat's Ferrari subdivision creates some of the sleekest (and sexiest) luxury automobiles in the world. But with prices for some of the models approaching $2,000,000 a pop, the cars are beyond the reach of most on the planet.
And, apparently, these cars are an unhealthy obsession for some.
A reader forwarded a portion of a video documentary on a guy who has devoted some 15 years -- about 20,000 hours of his life -- creating an "absolutely perfect scaled model of the Ferrari 312PB."
The model's creator, Pierre Scerri of Avignon, France, notes in the video as follows:
I wanted to make something like a dream. A Ferrari which we can have in the dining room. It could lost a lot of money to make such a car. For me it cost maybe 20,000 hours cause I have no money. It was my challenge ... to learn how to make everything in this car.
While some have called the 1:3 scale model, with an operating 12-cylinder engine, a piece of "masterful engineering," others view the entire endeavor as "downright freaky." (After all, who in their right mind would want a Ferrari in their dining room?)
Pierre is reportedly searching for a 1:3 scale driver to operate the car. Any takers?
To download a copy of the video, please use this link: " Look Ma, I made a Ferrari! "

----------------------------
By the way, you can find a 1:32 Ferrari 312PB on Ebay for about $39.00, plus $7.95 shipping. (You'd have an easier time fitting that in a New York City dining room ... for those that are fortunate enough to have a dining room.)