In Downtown Manhattan C.D.C. v. Barone , Downtown Manhattan filed a holdover proceeding against Michelle Barone -- the granddaughter of a deceased rent-controlled tenant -- who argued that she was entitled to succeed to the regulated unit.
The New York County Civil Court found that Barone had "met her affirmative obligation to establish succession rights to the rent controlled tenancy," and dismissed the case.
On appeal, the Appellate Term, First Department, sided with Barone because the evidence supported the finding that she "had long-term occupancy ties to the subject apartment."
While she had not resided in the unit for a period of time, the AT1 viewed that as an "excused educational absence." Thereafter, Barone returned to the apartment and "primarily resided there for the requisite two-year period immediately prior to her grandfather's death."
Downtown's additional argument, that as a minor there was a "presumption" that Barone's residence was that of her parents (rather than the subject unit), was found to be unpersuasive, as Barone had reached the age of majority three years prior to her grandfather's demise.
That, my friends, is the low-down on Downtown.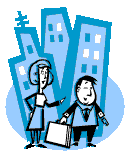 For a copy of the Appellate Term's decision, please use this link: Downtown Manhattan C.D.C. v. Barone
To view our other posts on this particular topic, please use this link: Succession