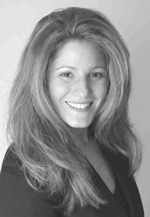 Meredith Fine, President of BP Vance Real Estate, Inc., sent us an interesting article.
In a piece entitled, "Top Ten 'Mistakes' First-Time Buyers Make," Fine outlines a set of helpful guidelines and tips which we thought our readers might find of interest. We recently asked her to elaborate on her observations.
1) INCORRECTLY TIMING YOUR MOVE
With mortgage, maintenance or common charges, and other financial obligations associated with a new home, the last thing any buyer needs is the added liability of paying rent for an unoccupied apartment. "If you know you are buying a place within the next six months, ask your landlord for a shorter lease or sign a month to month lease. This way you will not have to pay rent for an apartment in which you no longer live."
2) LOOKING AT HOMES YOU CAN'T AFFORD
Fine believes it's a mistake to shoot too high and advises buyers to think practically and to stay within their budgets. Get pre-qualified for a mortgage to see what price range your lender thinks you can comfortably carry. "The last thing you want is to fall in love with an place you can't afford."
3) BUYING THE WRONG SIZE HOME
With most Americans moving from their homes every 5 to 7 years, Fine counsels her clients to "think ahead" and anticipate lifestyle changes. For example, newlyweds may want to consider purchasing an apartment with space that can be converted to a nursery or second bedroom. "Otherwise," she warns, "you may find yourself outgrowing your space and needing to move a lot earlier than you had anticipated."
4) BUYING IN A NEIGHBORHOOD YOU KNOW NOTHING ABOUT
"Location, location, location," is a real-estate buyer's mantra. But Fine think it's also important to ensure that the area is the right "fit" for you and your family. She recommends visiting the local merchants and investigating the surrounding area during the day and night to get a good feel for the community. "The goal is to see what daily life is like so that you can assess whether or not you will be comfortable coming home every day."
5) OPERATING ON A "FIRST-APARTMENT-IS-BEST" THEORY
While some units are snatched up and don't remain on the market for very long, Fine still thinks it best for first-time buyer to take the time to "shop around." She recommends that purchasers get acquainted with the marketplace and develop a sense of what their money can buy. She recommends creating a list of preferences or priorities and urges her clients to focus on what are absolute musts. "Maybe you need a big kitchen because you do a lot of cooking, or prefer a larger living area for entertaining your guests. Whatever your preferences, don't be impulsive. Take some time to see what is out there and then choose what will work best for you."
6) BUYING A PROPERTY THAT'S DIFFICULT TO RESELL
Do I really need to anticipate whether my new home is resellable before I've even closed on the property I want to buy? "Absolutely," advises Fine. A variety of factors will impact resale value. The worst thing a buyer can do is to assume that real-estate prices will continue upward or that subsequent purchasers will ascribe the same value to the home as you do. "Think about the negatives," advises Fine. "They may come back to haunt you when it comes till to sell."
7) OVEREXTENDING YOUR BUDGET
There are often hidden costs associated with home-ownership. Down the road there may be repairs or special assessments that could pose a financial hardship on young people or older couples with tight budgets. Keeping enough cash in reserve for those rainy days is critical. But the willingness to make sacrifices will be key. "If given a choice, some people will pick 'enjoying life' over the burden of paying down a mortgage. Make sure you're prepared -- psychologically and financially -- for the commitment."
8) BEING INDECISIVE
There's nothing wrong with being trepidatious. After all, for some people, buying a new home will be the largest purchase they'll make in their lifetimes. But once you've done all your homework, and have found a place that most closely matches your preferences, Fine counsels her clients to take the next step and make an offer. "You don't want to lose out just because you are scared. Have a talk with your real-estate agent, he or she can help you overcome your fears."
9) CHOOSING THE WRONG MORTGAGE
Unless you've got loads of cash, you'll probably finance the purchase of your new home by way of an institutional lender. "Picking a mortgage, is much like picking a home," notes Fine. "You've got to find the deal that works best for you." With a variety of rates and options available (like "fixed," "interest only" and variable-interest rate products), your bank or mortgage broker will be an important part of this process. "By partnering with the right company, you're certain to save yourself a lot of stress, aggravation, and money!"
10) UNDER-INSURING THE PROPERTY
Last, but not of least importance, is securing the right insurance coverage. Calculate how much it would take to replace the contents of your home and to rebuild the property in the event of a catastrophic loss. Condominium and cooperative apartment owners without liability coverage are also vulnerable to costly lawsuits and substantial damage claims filed by others in the event of an accident or injury. "Why subject yourself to that possibility?" asks Fine. "Also don't forget to increase your insurance coverage as you amass more valuables and as your home appreciates in value. Otherwise you may be locked in by the limits set in your policy."

Meredith Fine can be reached at (212) 534-4444 ext. 25 or mfine@bpvance.com