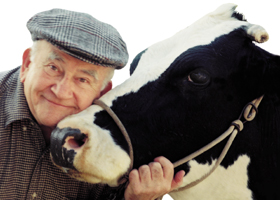 Still searching for that "perfect" gift?
If you have a few hundred bucks to spare, why not join actor Ed Asner (of Mary Tyler Moore Show fame) and give someone a heifer for the holiday season? It will only run you about $500.
If that's a bit out of your league, how about gifting a goat, pig, or sheep for $120, a trio of rabbits for $60, some honeybees for $30, or a flock of chicks for only $20?
These are just a few of the animals being offered "for sale" in a 28-page full-color gift catalog circulated by Heifer International -- a non-profit organization whose mission is to end world poverty and hunger.
Their concept is quite simple. By supplying farm animals to people in need, we can alleviate the consequences of poverty in many parts of the world and help others achieve a level of independence and self-sustenance.
Since 1944, some 45 million people, in 125 countries, have been aided by Heifer International 's model which not only provides hands-on training and education but also requires recipients to share some of the fruits of their labor (such as the offspring of the animals they receive) with others in need so that the impact of each contribution is multiplied exponentially -- all with the hope of saving lives and changing the world, one individual at a time.
Here are just a few endorsers of Heifer International 's efforts:
"I have long been proud of the fine work of Heifer International." — President Jimmy Carter

"Heifer Project is courageously addressing some of the most difficult problems facing our world today—ending hunger, preserving the environment, empowering women and building strong, self-reliant families and communities." — Hillary Rodham Clinton , US Senator, New York

"With the help of folks like you and me, Heifer International tackles the problem of hunger one family at a time with gifts of renewable resources - farm animals that are ongoing sources of food and income." — Susan Sarandon , Actor

"Ted (Danson) and I are happy to support the work of Heifer Project International. It is a project that can take a gift of a goat, a flock of chickens or a water buffalo and turn it into a life-saving resource. People are taking charge of their lives. We believe Heifer Project is an important answer to the issue of world hunger. " — Mary Steenburgen , Actor

"With a gift of a Heifer International animal, it is not just giving money away to some vast organization that you hope is going to trickle down to the people who need it. You are giving a living, breathing, breeding gift, so that you know exactly what it is that participants in Heifer programs around the world are going to get, and you know it's going to change their lives dramatically." — Brad Whitford / Jane Kaczmarek , Actors

"I found out about this marvelous work and had the honor of narrating the video Legacy for Efrain. One of the kids in that video - Beatrice Biira - has a new life because of the gift of one goat and there is even a best selling children's book written about her. Heifer Project and I are a good match .... because I love animals ... I love people ... and I want to be sure that we have green spaces, clean air, clean water and enough food, not only for today, but way off in the future." — Edward Asner , Actor

"One of the most rewarding aspects of reaching a large audience with one's work is the opportunity to help spread the word about the invaluable services that The Heifer Project provides to people in need around the globe." — Rene Auberjonois , Actor
Making a tax-deductible contribution is easy.
You can send a check to Heifer International at Box 1692, Merrifield, VA 22116-1692, or call 800-422-0755, or use this link to make a on-line contribution with a credit card: Gift Catalog
At whatever level you contribute, it's certain to be a gift that will keep on giving.