If you think landlord-tenant cases are wacky, try bringing a lawsuit against the State of New York.
Kolnacki v. State of New York , a recent decision issued by the New York State Court of Appeals, illustrates just a few of the hurdles you can expect to encounter.
First, a little context.
At common law, a state could act with impunity or reckless disregard of its duties or responsibilities because the doctrine of sovereign immunity shielded it from suits. Thus, someone injured by a state's negligence was left without a legal remedy. (It's great to be the king, ain't it?)
Fortunately, New York State waived some of its immunity by way of a statute known as of the Court of Claims Act.* That law details the circumstances under which a claim may be brought and outlines what a plaintiff must do to successfully sue the State. For instance, in its pleadings a party must state the time and place of the accident, the nature of the claim, the injuries sustained, and the "total sum" of damages sought.
On July 8, 2000, Betty Kolnacki slipped and fell at Artpark, an outdoor theater/park in Western New York. Kolnacki sustained a knee fracture, damage to her teeth, and some cuts and bruises. She later filed a negligence claim against New York State to recover monetary damages for her injuries. Kolnacki's pleading did not, include a "total sum" of damages she was seeking to recover. Instead, her complaint indicated that the "[t]he full extent of claimant's injuries are not yet known."
While the Court of Claims found the State partially at fault, it still dismissed Kolnacki's claim for violating Section 11(b) of the Court of Claims Act since her papers did not proffer the "total sum" of damages sought.
The Appellate Division, Fourth Department, overturned the dismissal, reasoning that since the damages were difficult for Kolnacki to determine, the stated language was sufficient. Our state's highest court reversed the AD4 and dismissed the case.
The New York State Court of Appeals indicated that it would accept "nothing less than strict compliance with the jurisdictional requirements of the Court of Claims Act." It described these requirements as "substantive conditions on the State's waiver of sovereign immunity." Should a plaintiff fail to comply, then the State remains immune and the Court of Claims "lacks jurisdiction" to hear the case.
Since the governing standards are immalleable, litigants are left with little choice but to estimate their damages and then amend their pleadings when the precise sums become known.
Excelsior?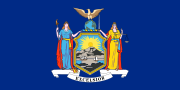 For a copy of the Court of Appeal's decision, please use this link: Kolnacki v. State of New York
-----------------------------
*To access an electronic copy of the Court of Claims Act, select the statute identified with the initials CTC appearing toward the bottom of this list: New York State Laws